TACS Laboratories is a SANAS accredited test laboratory which offers conformance testing on electrical products and materials. They use top quality testing equipment and instruments with the latest technologies to ensure that the products they test are up to standard. Joel Laki Ndaba, Quality Director at TACS Laboratories, takes great joy in ensuring that products going through the laboratory and into the hands of consumers are safe and compliant.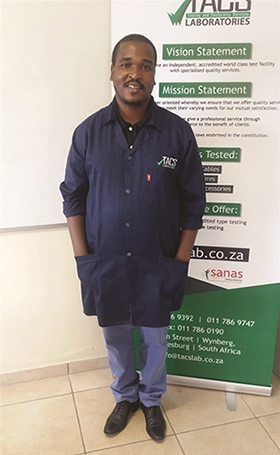 Sparks: Where were you educated?
JN: I started my schooling at Lesedi Le Legolo Primary school, matriculated at Eletsa Secondary School then enrolled for a National Diploma in Computer Systems Engineering at Technikon Pretoria formally known as Tshwane University of Technology.
Sparks: How long have you been involved in the electrical industry?
JN: For 14 years.
Sparks: When and where did you start your career?
JN: I started my career 2005 at the South African Bureau of Standards (SABS) as a candidate test technician in the Electronics and Appliance Laboratory. I then moved to the lighting technology laboratory until I resigned from SABS.
Sparks: What are the greatest changes you have seen over the years?
JN: The industry understanding the difference between South African Bureau of Standards (SABS) and South African National Standards (SANS). A proof of compliance test report issued by any accredited laboratory, according to relevant standards, is acceptable as a proof of compliance for any product, provided the report meets all the regulatory requirements. In recent years we have seen the emergence of privately owned, independent, accredited electrotechnical laboratories such as TACS Laboratories.
Sparks: What major projects have you worked on and what is your greatest accomplishment?
JN: I have worked on many projects as a compliance consultant under QC Kings, but I must say the greatest project I have ever worked on was TACS Laboratories' initial on-site assessment by SANAS and extending our scope of accreditation to lighting or luminaires testing. From the layout of the laboratory to successful accreditation, this was a great achievement, and together with my business partners, we are maintaining the accreditation and working on expanding in other areas of electrotechnical.
Sparks: Have you won any awards?
JN: As a student, yes. I am now looking forward to winning awards in the corporate sector.
Sparks: Who has been your inspiration or have you had a mentor who has influenced your career?
JN: My mother and father, as well as my family in general. Their belief in me gives me strength to wake up daily and do my best. I also cannot forget my great teachers and business partners, Freddy, George and Khakhane.
Sparks: What, to your mind, is one of the biggest challenges facing the industry at this time?
JN: Some ineffective government institutions are choking many industries with slow regulatory processes while poor quality imports are giving local manufacturers no chance to grow, compete and employ the people of this country.
Sparks: What do you enjoy most about your job?
JN: They say lighting is life, and I don't have any reason not to enjoy life. I enjoy the challenges that come with different smart lighting technologies and meeting knowledgeable people and I learn daily, making everything fun. When I see products, which have been tested at TACS Laboratories, that alone gives me joy and comfort knowing that at TACS we don't compromise on our quality results.
Sparks: How do you motivate your staff?
JN: Fortunately, this is not my primary responsibility at the stage. However, I am always leading from the front and conducting tests in the laboratory with other technicians because I prefer to lead by example. I don't want to find myself behind technology while I am still young and active.
Sparks: If you could 'do it all again', would you change anything?
JN: Absolutely nothing because by seeking and blundering we learn.
Sparks: Would you advise a person leaving school to enter the electrical industry?
JN: Absolutely, electricity is the base of our daily lives. The country is currently facing challenges with its electrical supply and with the broader scope of electrical engineering, one can specialise in many fields.
Sparks: What is your advice to electrical contractors?
JN: They must expand their knowledge beyond wiring code; they must understand individual product compliance and be able to assess compliance beyond CoC, LOA or RCC.
Sparks: What is your favourite quote?
JN: Life will only change if you become more committed to your dreams than you are to your comfort zone. If you are not growing, you are dying.
Sparks: Name three things on your 'bucket list'.
JN: To see TACS Laboratories growing to the level of SABS and/or Intertek Test Services; to establish a technology and engineering skills development centre in the heart of Letlhabile at Brits North West to empower the community; and to see my kids growing up and living a meaningful life by contributing to making South Africa a beautiful country.
Enquiries: www.tacslab.co.za