AEL Intelligent Blasting (AEL), a member of the JSE-listed AECI Group in South Africa, a company that is well-known for its innovation in the mining industry, has redesigned its business (including its corporate identity) to recharge its position in the mining industry. Initiatives include expansion into the global market, including Brazil and Australia.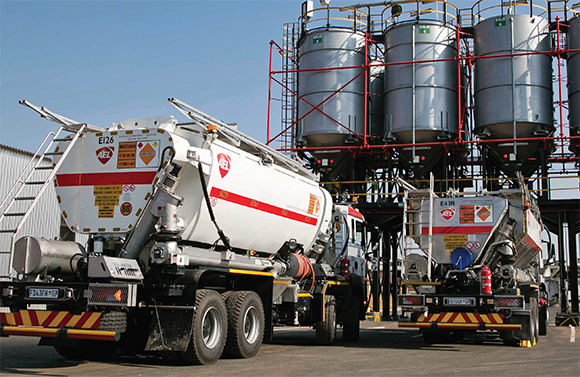 AEL's Mobile Manufacturing Units (MMUs) offer varying pumping and augering rates to suit blast hole diameters and bench conditions.
"Our new branding seeks to capitalise on our successful growth and expansion, and supports our strategy to position the business as the most intelligent choice in the market when it comes to blasting services and products," says Edwin Ludick, Managing Director at AEL Intelligent Blasting.
"Innovation is key to ensuring continuing market relevance and customer satisfaction. The rebrand is aligned with our mission to keep our global operations on the frontier of technology through the delivery of ground-breaking innovations; to offer state-of-the-art technological solutions to our clients; and to operate sustainably, without harm to people, the environment and the communities in which we operate."
To meet the changing needs and challenges of the mining industry, AEL operates on the ideal of partnering with its stakeholders and customers to bring into realisation the products and services they require to take the mining industry into the era of digitalisation and smart mining.
"By partnering with our customers on their unique journey, we are able to ensure efficient and sustainable blasting practices by focusing on optimal blast outcomes, optimising blasting processes and solving blasting problems," says Ludick.
These partnerships as well as other types of business models are being used to expand into other regions of the globe.
As part of its international expansion strategy, AEL Intelligent Blasting has recently acquired Dinacon, an explosives company in Brazil, for US$6,3 million.
The purchase of the business, located near Lorena in Sao Paulo, includes 100 % ownership of the manufacturing plant, distribution and storage facilities and the requisite explosive operating licences.
"This is a great opportunity for meaningful entry into the explosives market in Brazil and the rest of Latin America (LatAm). It is in line with the business's intent to continue expanding the geographic footprint of its mining solutions strategic growth pillar," Ludick comments.
He adds that Brazil has more than 8 000 mines, so there is a sizeable opportunity for growth, particularly in terms of leveraging AEL's significant experience in open-pit and underground mining from its African, Australian and Indonesian footprint, and its long-standing relationships with international mining companies such as Anglo American and Vale.
The acquisition will bolster AECI's LatAm operation that has focused on the distribution of fertiliser additives for agriculture, mining chemicals and surfactant technologies for ore beneficiation.
Historically, Dinacon has supplied explosives mainly to the Brazilian civils and construction industry. Its business in local mining, which represents the world's third largest output by value, has been limited.
The transaction, which was implemented through a judicial recovery (business rescue) process, has been finalised and is expected to take effect in the second quarter of 2019. When that happens, Dinacon Lorena will be rebranded as AEL and trading will commence under the AECI LatAm banner.
Brazil is not the only region that the business has expanded into. AEL's expansion into Australia has been well received by this market. According to information released by the Australian government, Australia has "a robust and world-leading mining industry evidenced by a top five position as a producer for some 19 commodities including gold, aluminium, iron ore, rare earths, mineral sands, zinc, lead and coal.
"In 2016, Australia's mineral exports (excluding petroleum products) amounted to more than $151 billion which was almost 58 % of all export merchandise and 46 % of all exported goods and services. In the 2016-17 financial year, mining accounted for 7,4 % of gross domestic product. In addition, the mining industry employed more than 230 000 people in 2016, with many more employed by related industries."
This growth is shown in tax revenues. A recent article says that "according to Deloitte Access Economics, the Australian minerals industry paid $18,6 billion in company tax for 2017-18 alone – equal to 22 per cent of all company tax collected for that year."
In an article which appeared on Mining.com, the growth of the industry is linked to the exploration of new mining opportunities: "That's the result not only of a rich mineral endowment but massive amounts of money spent on exploration across the continent."
The country down under is perfectly poised for the South African innovations that AEL Intelligent Blasting has developed.
An example of this is the Intellishot™ detonator, developed with over 30 years of electronic detonator learning. This technology has incorporated the design for improved resistance to blasting phenomena generated during detonation, such as an electromagnetic pulse, static electricity, and shock- and pressure waves.
Australia's focus on safety in the sector is mirrored by AEL's values.
"Safety is at the heart of everything we do. We have gone to even greater lengths to ensure our customers benefit from the excellent safety record they have come to expect with our products. Our new system utilises an Application specific Integrated Circuit (AsIC) electronic chip and not the average off-the-shelf microprocessor. The same technology is used in mission critical electronics such as aerospace and defence applications where a guaranteed outcome is required," says Ludick.
The memory of the Intellishot™ AsIC has been upgraded to have 15 times more storage capability, thereby allowing more functions and features not previously possible while the programming speed has been increased sevenfold.
"Even the communication leads have been upgraded to be tougher with increased abrasion resistance, increased ability to stretch and tensile properties that ensure the detonator remains functional in the most demanding of applications," explains Ludick.
"What makes Intellishot™ unique is that the system merges industry-leading technology with ease of use. The product has been designed to handle complex blasting requirements in an easy manner," Ludick continues.
"Our market research indicates that our system is the only electronic detonator solution that can perform encrypted wireless synchronisation and control of the equipment. The system incorporates built-in long range (3 km) transmitters/receivers so there is no need for additional external antennae.
"All of these features combine to give the user ease of use, speed of connection and communication, extremely robust detonators and control equipment (IP57 rated) which leads to accurate, successful blasts, on time.
"We are excited to take South African innovation to other regions so that their mining industries can benefit from our solutions," concludes Ludick.