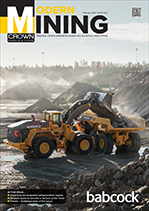 The February issue of Modern Mining largely reviews the recently-ended Investing in Africa Mining Indaba 2020. We particularly explore the self-generation regime proposed by the South African government and what it means for the mining sector. The announcement of the forthcoming legislative amendments by Mineral Resources and Energy Minister Gwede Mantashe at Mining Indaba – which would allow mining companies to generate their own power without licences from the regulator – received the plaudits of the industry. However, there is need for clarity on what would be required under energy laws to see this to fruition.
Cover Story: Volvo wheel loaders a hit in southern African market
Although Volvo Construction Equipment (Volvo CE) is probably best-known for its world-leading articulated haulers, these form just one part of what is a formidable line-up of Volvo equipment which also includes a highly regarded range of wheel loaders. According to Dave Vaughan, Managing Director of Babcock's Equipment business, the wheel loaders have established themselves as firm favourites in the southern African market with some customers having as many as 20 units in their fleets.
Afrimat's quest to become a 'serious' junior miner
Following a successful entry into the commodity space through the acquisition of an iron ore operation some three years ago, new business development remains a critical component of Afrimat's growth strategy. CEO Andries van Heerden tells Munesu Shoko that the company has identified further opportunities in both existing markets and anticipated new high-growth areas in its quest to become a 'serious' junior miner.
Prieska – Building a 'mine of the future'
Riding on competitive capex savings presented by its flagship Prieska copper/zinc project – made possible by the development of a new mine on the footprint of an old one with much of the mine's infrastructure already in place – Orion Minerals is seizing the moment to break from legacy to a 'mine of the future'. Munesu Shoko was recently on site.
Cora forges ahead at Sanankoro
Having recently delivered a maiden resource and a scoping study on its flagship Sanankoro project in southern Mali, AIM-listed Cora Gold will this year focus on expanding drilling work to test possible expansion of resources with a view to increasing the life of mine beyond the currently projected three years, CEO Bert Monro told Munesu Shoko at the Investing in Africa Mining Indaba.
Unlocking new ways of enhancing productivity
The mining industry is at an inflection point, where digital technologies have the potential to unlock new ways of managing variability and enhancing productivity. With several other industries already embracing the digital revolution, mining has recognised the potential of digital and technology innovations that could transform and invigorate the industry and is starting to move quickly to catch up. With profits down, miners are focused on improving their productivity through the digital revolution. Is digitalisation the answer to the industry's quest for improved productivity?
Metso's new head for Africa upbeat about mining prospects
Tuomo Niskanen – appointed head of Metso's Africa market area at the start of the year – is encouraged by prospects of a buoyant African mining sector in 2020 and beyond, particularly driven by precious metals. In a one-on-one with Munesu Shoko, he lays out his growth plans for Metso in Africa, which will largely hinge on customer centricity and leveraging the gains of new technologies.