COVID-19 has forced businesses to re-think and do things differently. As you will see in this edition of Modern Mining, we ask whether it is the right time for deep-level mines to embrace intelligent mining through investments in automation and technology modernisation.
Why deep-level mines? These operations are pretty much on a cliff with the continued restrictions on operations. Due to their labour-intensive nature, deep-level mines were still compelled to operate at only 50% capacity during South Africa's Alert Level 4 of the lockdown.
The business case for automation in key areas of mining has been clear for years, and companies know that they can benefit from taking this path. However, when the going gets tough, companies often choose to abandon their innovation and research development portfolios, regarding these as longer-term plays that don't drive short-term value. It is, however, important that companies evaluate whether all technology projects need to be abandoned or if some show real promise of creating value through insights or operational improvements.
On the Cover:
Although United Mining Services (UMS Group) was formed out of a business that was primarily focused on underground ore body access and related contracting work, the company is – in nearly five years of existence – punching above its weight with a growth strategy that hinges on diversification of its service offering and geographic footprint. This is supported by a 60-year industry track record and a team of experienced individuals who bring a wealth of knowledge to the business.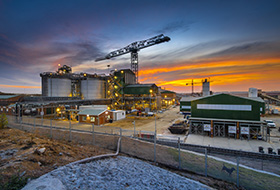 Tailings retreatment pays dividends for Pan African Resources
That mining activity has been severely curtailed under the stringent COVID-19 lockdown restrictions is no overstatement. However, for Pan African Resources, tailings reprocessing is providing a lifeline due to the easily accessible nature of tailings retreatments, thus allowing the company to continue producing close to forecasted production.
Shanta solidifies operating presence in East Africa
AIM-quoted Shanta Gold's acquisition of Barrick's Kenya assets during the first quarter of this year transforms the East Africa-focused gold producer into a multi-asset and geographically diversified company with a portfolio of low-cost gold mines, and the potential to become a significant producer. This, CEO Eric Zurrin tells Modern Mining, solidifies Shanta's position in the East African gold space with realisable growth prospects and a high-asset quality across three attractive gold projects.
Sound economics for the Bougouni Lithium Project
Test results of the bulk sample of pegmatite hosted lithium mineralisation from Kodal Minerals' Bougouni Lithium Project located in southern Mali achieved an overall recovery of up to 83% for a 5,5 to 6% Li2O spodumene product. These, CEO Bernard Aylward tells Modern Mining, are good recoveries which demonstrate compelling economics for the project.
Customisation in comminution equipment unpacked
Product customisation in the mining sector is a major trend in the development of comminution equipment of late. Modern Mining approached a few players in this field to identify the drivers behind this trend and their individual responses to it. We also explore some key considerations for the manufacture of bespoke comminution equipment.
SA-made solution for Australian iron ore screening
An innovative high-impact screen panel developed by Multotec has boosted the wear life of screens at almost a dozen iron ore mines in Australia's Pilbara region.So successful was the Ceradox panel that after testing was concluded on one mine site, the solution has been rolled out to 10 more mines in recent months.
COVID-19 – A compelling case for automation in deep-level mining?
The effect of the COVID-19 pandemic on the mining sector has been significant. Modern Mining speaks to Kumeshan Naidu, regional automation centre manager at Epiroc South Africa, on whether the COVID-19 setback reinforces the business case for automation in deep-level mining.