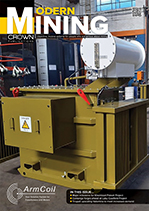 Editor's take: Despite the common negative perspective that mining is a 'dirty industry' due to its troubled past, the recently ended Investing in African Mining Indaba virtual cast the spotlight on the transformation the industry is undergoing in its efforts to clean up its reputation. This year's event – which took place on 2 – 3 February – highlighted the industry's move away from a box-ticking approach to a 'value beyond compliance' attitude towards Environmental, Social and Governance (ESG).
Several speakers and panellists spoke on how, in recent times, the industry has been making silent, but significant leaps, due to a change in management culture, stakeholder engagement, portfolio planning and embracing new technology for increased efficiency and ultimately, investor demand.
On the Cover:
ArmCoil Afrika, a manufacturer and repairer of transformers and electric motors, has punched above its weight with the successful remanufacture of a mobile skid substation for one of South Africa's largest opencast mines.
Major milestone for Khemisset Potash Project
In a major milestone in the development of what is to become the first large-scale potash mine in Africa, Emmerson Plc has been granted a mining licence by the Moroccan Ministry of Energy, Mines and the Environment for its 100% owned Khemisset Potash Project.
Contango forges ahead at Lubu Coalfield Project
Despite the current national lockdown in place across Zimbabwe since January 5 this year, Contango Holdings is forging ahead at its flagship Lubu Coalfield Project. The company expects to finalise its discussions with the proposed mining contractor ahead of opening two pits at Lubu in February 2021.
Tirupati upscaling Vatomina to meet increased demand
In response to continued increased demand for its high quality flake graphite from Madagascar, Tirupati Graphite is upscaling the capacity of the first module at its Vatomina project by 50% to a planned production of 9 000 tonnes per annum, which will result in an increase to near-term cash flows from operations.
Roof support and rock drilling: the safety backbone of underground mines
In terms of safety, roof support is arguably the backbone of every underground operation. In this feature, Modern Mining takes a look at this complex area of underground drilling, as well as at the trends, technologies, product offerings and their uptake in the underground mining industry.
Mines push on as SA plays catch-up
The South African mining sector is managing the COVID-19 pandemic remarkably well, but the country needs to do more if it wants mining to benefit from the looming demand peak in 'green minerals'. So says Ralf Hennecke, GM: Technology and Marketing at Omnia Group company BME.