Editor's take: In this edition of Modern Mining, the editor takes a look at the growing importance of water management strategies for mining companies. The world's most essential commodity without doubt is water. Yet despite its critical significance to human life and to the global economy, water has for years been taken for granted and the issue of water scarcity remains largely neglected. Back in 2011, a report by EIRIS noted that under a business as usual scenario at the time, water demand would outstrip supply by 40% by 2030. This had the potential to put US$63-trillion of global GDP at risk by 2050.
In an interview with the Mineral Policy Centre, renowned mining expert Dr James Lyon once said, "Water has been called mining's most common casualty". In my recent chat to Vincent Ridgard, a process engineer at Multotec, he alluded to the fact that water is arguably the second most valuable asset on a mine after the ore body itself. Strangely enough, he said, it is more often considered an "afterthought" for many design houses and mine owners.
Mines use water for mineral processing, including comminution practices, classification by screening and hydrocyclones, dust suppression, slurry transport and employees' needs, among others. One of the greatest challenges facing mining operations is the development and management of water resources. It is important that every operation prioritise the most efficient control and management of valuable water resources to maximise proficient use and reuse of every drop of water that is involved with a mine site operation. This also minimises the long-term environmental liabilities that could result from the mismanagement of water resources.
It is, however, encouraging to see that the attitude towards water management has, in the past few years, improved significantly. Investor-led initiatives related to water risks have begun to gain momentum. Water plays an essential role in most mining and extractive processes, and responsible water management is a critical business case for the mining sector at large.
On the Cover:
To meet mining companies' growing drive to become lowest-quartile cost producers, Bell Equipment has over the years continued to push the boundaries with a range of standard solutions on its articulated haulers that speak to increased productivity and efficiency, thus establishing the Bell ADT as one of the lowest cost-per-tonne machines on the market.
Xaudum Iron Project – potential game changer for Botswana?
With a current resource of 441-million tonnes, an exploration target of 5 – 7-billion tonnes and an expected premium magnetite product containing 67% Fe, Tsodilo Resources Limited's Xaudum Iron Formation project is a potential game changer for Botswana as the country seeks to diversify its economy and move away from a dependence on diamond revenues.
Bulk commodities propel Afrimat into the mid-tier mining space
Key to Afrimat's persistent growth over the years has been its diversified portfolio. The continued growth of its Bulk Commodities division, anchored by its iron ore assets, has been central to the company's rise into the mid-tier mining space. The recent addition of another mineral through the acquisition of a manganese mining right will further enhance the company's commodity diversity.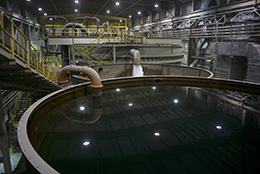 Water management – a key pillar of De Beers' 'green' mining drive
Southern Africa is one of the water scarce regions in the world, yet mining is the backbone of the region's economy. Through its Building Forever Framework, the De Beers Group has committed to a 50% reduction of its freshwater footprint by 2030.
How can the mining industry transition towards climate resilience?
In addition to addressing the current structural constraints, the mining industry is grappling with a longer-term transition towards climate resilience. However, by taking a few strategic pivots, Lucas Chaumontet, MD and Partner at Boston Consulting Group's Johannesburg office, believes the industry can gain a competitive advantage while combatting global warming.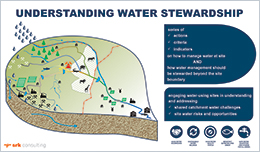 Water stewardship gives mines the broader view
With South Africa's growing demand for water – and the impact of climate change on rainfall variability and water supply security – the need for a systematic approach to water stewardship in mining has never been greater.
The rising threat of cyber-attacks in the mining industry
Increasingly, mining companies are looking to adopt smart technologies to optimise production and decision-making to future-proof their businesses. The reliance on such connected and internet-dependent systems, however, is not without its risks. According to PwC, as reliance on autonomous and digital technology grows, so too does the risk of cyber-attacks.
Nitrogen generators can keep mining trucks moving
Oxair Gas Systems supplies equipment to mining operations around the world. Chief engineer David Cheeseman explains to Modern Mining why the time is right for the African mining industry to take on board the latest on-site gas generating technology to ensure a constant flow of nitrogen to keep truck tyres rolling, improve safety and reduce carbon footprint.