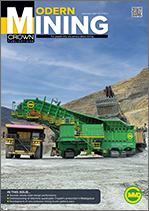 Editor's take: In this edition, the editor takes a look at Botswana's prospects of reducing its reliance on diamond revenues. That Botswana is the land of diamonds is no overstatement. In Debswana's Jwaneng Mine, described as a 'true prince of mines – a gem in the world of gems', the country boasts the world's richest diamond mine by value. This is where the 1 098 carat stone, believed to be the world's third-largest gem-quality rough diamond ever mined, was unearthed in June this year.
A few weeks later, Lucara Diamond Corp. went on to recover a 1 174 carat diamond from its Karowe Diamond Mine. The diamond represents the third +1 000 carat diamond recovered from the South Lobe of this AK6 kimberlite since 2015, including the 1 758 carat Sewelô and 1 109 carat Lesedi La Rona, the world's second-largest gem-quality diamond which was sold to a London jeweller for US$53-million in 2017.
Botswana's economy has over the years been built on a foundation of diamond mining, which contributes close to 50% of government revenue, mainly through the 50:50 joint venture with De Beers in the Debswana Diamond Company.
The mining sector in Botswana accounts for about 35% of the country's GDP, with diamonds contributing about 94% of the total mining share in GDP. A primary challenge for Botswana has always been the need to diversify the economy to move away from a marked reliance on diamond revenues.
However, recent project activity could be the answer to Botswana's quest for true diversification of its mineral basket. On the project front, Khoemacau Copper Mining recently achieved first copper and silver concentrate production for its Starter Project near Toteng. The project, located in the Kalahari Copper Belt, is expected to produce an annual average of 62 000 tonnes of payable copper and 1,9-million ounces of payable silver in concentrate for more than 20 years.
In Tsodilo Resources Limited's Xaudum Iron Formation (XIF) project, a potential Tier 1 mine that has a predicted life of over 60 years, Botswana possibly has a project that will move the country away from its overreliance on diamond revenues.
With a current resource of 441-million t, an exploration target of 5 – 7-billion t and an expected premium magnetite product containing 67% Fe, the XIF project is a potential game changer for Botswana as the country seeks to diversify its economy.
A resource of 5 – 7-billion t would rank the XIF deposit in the top 10 magnetite resources globally, and the second largest in Africa. The potential revenues from such a project would likely be similar to the revenues generated by Debswana. Tsodilo is also considering further beneficiation of the product in Botswana, which is tipped to revamp the steel industry in the country and create thousands of jobs.
On the Cover:
While truck-and-shovel systems have been the mainstay of open-pit mines for a long time, the inherent inefficiency and safety issues remain. The answer, says MMD Africa business development manager Mark Peeters, lies in MMD Group's new Fully Mobile Surge Loader – a truly mobile and intelligent feeder designed to tackle intermittent loading, and make truck-and-shovel operations more efficient and safer than ever before.
Towards steady-state design performance
Having reached commercial production on July 1, both recoveries and copper production at Kamoa Copper's Phase 1, 3,8-million tonnes per annum concentrator plant are approaching steady-state design parameters, CEO Mark Farren tells Modern Mining.
Commissioning of Vatomina quadruples Tirupati's production in Madagascar
Tirupati Graphite plc has completed the installation and commissioning of the first 9 000 tpa flake graphite module at its Vatomina project, which brings the total production capacity in Madagascar to 12 000 tpa. This, CEO Shishir Poddar tells Modern Mining, is an important milestone towards the company's path to reaching total production capacity of 84 000 tpa by 2024.
UMS gears up for shaft sinking at Karowe Mine
With a team comprising some of the most experienced professionals in shaft sinking, United Mining Services (UMS) is gearing up for the pre-sinking of two shafts for the Karowe Underground Mine Expansion Project (UGP) in Botswana.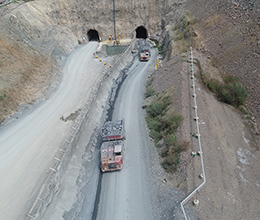 Outstanding drilling results showcase West Africa's gold haven status
West Africa is going through a sustained period of elevated exploration activity precisely at the time when the mining sector is entering the current metals supercycle. Recent excellent exploration results from some of the companies operating in the region demonstrate why the region has been one of the fastest growing gold mining jurisdictions in the world.
Development of zero-emission mining trucks gathers pace
Although large capital investments are required for mines to fully decarbonise, certain measures such as adopting renewables and electrification of equipment are economical today. Shifting to electric equipment is increasingly feasible and is gathering pace, with mining houses and original equipment manufacturers partnering to accelerate the development of 'zero-emissions' mining trucks.
Liebherr Mining advances Zero Emission Programme
Liebherr Mining, which already offers a range of solutions to help customers reduce emissions, has clear targets and a roadmap to expand its current offering to achieve low carbon solutions in 2022, along with fossil fuel-free solutions for the majority of applications by 2030.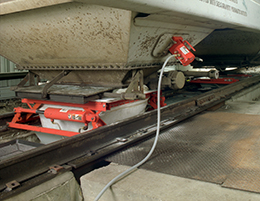 Engineered flow aids resolve bulk material handling issues
In order to achieve controlled and consistent flow on conveyors handling large volumes of bulk material, transfer chutes and vessels must be designed not just to accommodate – but to actually facilitate – the flow of the cargo they will be handling. Unfortunately, because so many conditions can hamper effective cargo flow, engineering a conveyor and chutework that would handle every material situation is virtually impossible.