Editor's take:
In this edition of Modern Mining, the editor explores whether coal been consigned to history or if there is still a long future for the resource in developing countries.
In pledges made at the recently-ended COP26 climate summit, more than 40 countries committed to shift away from coal, including major coal-using nations such as Poland, Vietnam and Chile. Notably, major international banks also committed to effectively end all international public financing of new unabated coal power by the end of 2021.
In addition, at least 25 countries and public finance institutions committed to ending international public support for the unabated fossil fuel energy sector by the end of 2022. Collectively, notes the United Nations Climate Change, this could shift an estimated US$17,8-billion a year in public support out of fossil fuels and into the clean energy transition.
Under the coal pledge, there is an agreement to phase out coal power in the 2030s for major economies, and the 2040s for developing nations. After this pledge, has coal been consigned to history, as countries, banks and organisations agree to move away from the single biggest contributor to climate change? There is certainly a growing consensus among the progressive nations that the end of coal is in sight. But is it?
There are many unanswered questions – the biggest is the list of countries missing from this firestorm of coal commitments – including the United States, China and India. Additionally, none of these commitments are binding, which means that there is no big stick to force countries to comply.
Managing the move away from coal is not that simple. There are two aspects to the phase-out of coal in the power sector, which is the biggest consumer of the resource: halting the construction of new plants and managing the decline in emissions from existing assets.
On the Cover:
At a time when the mining sector is seeking to ramp up production amid a favourable commodity cycle, uptime is a parameter of significance. Leveraging its fortified new regional structure, an expanded dealer network and the full-fledged Astec Johannesburg manufacturing facility, Astec Industries Africa and Middle East (AME) is positioned to deliver significant uptime and value for mines.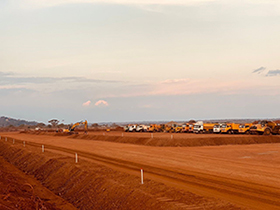 Singida Gold Project on track for first production in early 2023
Construction at Shanta Gold's Singida Gold Project in Tanzania remains on track for first production in early 2023, with key construction milestones achieved thus far. CEO Eric Zurrin tells Modern Mining that reaching the production landmark will propel the company into an over 100 000 oz per year producer in the near term, while maintaining an attractive cost base.
Production potential for lithium and tantalum concentrates at Uis
Following a by-product and metallurgical process development programme, AfriTin Mining reports that metallurgical test work results have confirmed the production potential of separate saleable lithium and tantalum concentrates from its current tin concentrate product at Uis Tin Mine.
From opencast to underground mining: a journey based on long-term relationships
Fortune 500 company Fluor speaks to Modern Mining about the global trend among the mining companies to migrate from opencast mining to underground as open pit resources become depleted and replacement resources are required; the importance of strong partnerships in the mining industry and the vital nature of long-term relationships of trust between the engineering and construction firm and its clients.
ESG – a make-or-break matter for mining
There is a common understanding that environmental, social and governance (ESG) represents one of the mining industry's most significant opportunities for long-term value creation, building trust and sustainable growth. Miners need to engage with their stakeholders and start to 'bake' ESG into the core of their strategies.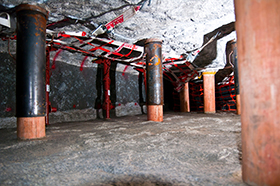 A perspective on the future of work and mining post COVID-19
The Sibanye-Stillwater Digital Mining Laboratory (DigiMine) and the Wits Mining Institute (WMI) at the University of Witwatersrand hosted the annual DigiMine seminar in September 2021 with the theme, "A perspective on the future of work and mining – post COVID-19". Mark Botha attended the event and filed this report.
Click here to download and read this issue in PDF format.