Editor's take: "The party's over for soaring commodity prices, and the descent of most commodities prices is imminent," says Peter Major, director at Mergence Corporate Solutions. This news comes just as we are beginning to get comfortable with surging commodity prices and, if his prediction proves to be correct, it is sad news for all of us, miners, suppliers to the industry, and government coffers.
On the cover
Building the future of mining through digitisation
Vodacom targets mining for integrated IoT, Edge, and analytics solutions as evidenced in its flagging of a 'next-generation' private network offering. This will comprise converged Mobile Private Networks as well as Edge Computing systems, to name a few, for its key mining business segments in Africa.
Gold remains resilient amid heightened global uncertainty
Geopolitical crises weighed heavily on the global economy and reinvigorated investor interest, pushing the gold price briefly, and just shy of its all-time high, to $2,070/oz in March. The World Gold Council's latest Gold Demand Trends Report reveals gold ETFs had their strongest quarterly inflows of 269t since Q3 2020, more than reversing the 173t annual net outflow from 2021 and driven in part by the rising gold price. Meanwhile, gold bar and coin demand was 11% above its five-year average at 282t.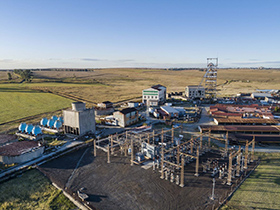 Pan African Resources eyes the big league
Mid-tier miner Pan African Resources' growth strategy, underpinned by organic growth and advanced acquisition opportunities, will soon see the AIM and JSE-listed gold producer, which currently produces around 200 000 oz of gold per annum, move up the gold production ranks. The company is busy with initiatives to ramp up production to 250 000 oz in the next three years and 300 000 oz in the next six years, investor relations head Hethen Hira tells Modern Mining.
Resolute consolidates and targets future growth
African-focused gold miner Resolute is progressing well on strengthening its balance sheet, increasing production to take advantage of the favourable gold price and unlocking opportunities from its exploration programme, CEO Stuart Gale tells Modern Mining, just before he steps down from the role of CEO
Lindi Jumbo graphite targets production before year-end
For Australian-owned energy minerals developer Walkabout Resources, which is focused on the development of its flagship Lindi Jumbo graphite project in Tanzania, the robust demand for graphite is good news. According to CEO Andrew Cunningham, there are massive investments being made in the development of EV battery mega-factories across the world, which is underpinning the substantial demand for minerals used in the production of EV.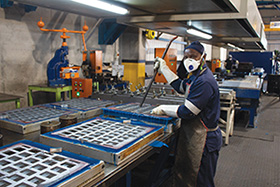 Investment in FLSmidth's Delmas facility underpins local success
Almost a decade since its launch in June 2013, engineering company FLSmidth's centre of excellence in Delmas, Mpumalanga is helping its African customer base negate the logistical challenges associated with shipping to deliver vibrating equipment at speedy turnaround times. GM for operations, manufacturing & warehousing, Warren Walker, speaks to Modern Mining.