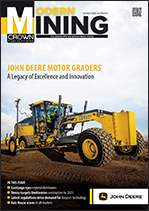 Editor's take: Nothing has the capacity for instant despair like the announcement by Eskom of the move to higher stages of loadshedding, with Stage 6 loadshedding (often up to 10 hours per day) once again being the case in early September. This ping-pong game of loadshedding stages has been wreaking havoc on citizens' emotions. While President Cyril Ramaphosa, who's safe from power-cuts, says its "short-term pain for long-term gain", it's only those who actually experience loadshedding, who know the full might of that despair.
On a more positive note, the South African economy has proved to be more resilient than its citizens. According to Statistics South Africa (Statssa), the country's real gross domestic product (GDP) expanded by 0,6% in the second quarter (April–June) of 2023. This follows a 0,4% rise in the first quarter.
On the cover
John Deere Motor Graders: A Legacy of Excellence and Innovation
John Deere, a name synonymous with agricultural and construction machinery, has been at the forefront of motor grader technology for decades. With a legacy that traces back to the launch of the JD 570 in 1967, the brand has consistently showcased its commitment to innovation, efficiency, and user-centric design. This article delves deeper into the evolution of John Deere's motor graders, highlighting their advancements, the brand's unwavering dedication to excellence, and the financial solutions they offer their customers.
Contango eyes regional dominance
Following the official launch of its flagship asset the Muchesu Coal Project – formerly known as the Lubu Coal Project – in Zimbabwe, coal junior, Contango Holdings, recently received its export permit from the Zimbabwean government, which allows the miner to sell its product regionally and internationally, CEO Carl Esprey tells Modern Mining. Since Contango's acquisition of the Muchesu Coal Project three years ago, the company has delivered first production, a key milestone which underpins its strategy of expanding production by as much as 100 000 tpm within the next two years.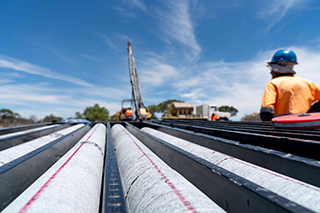 Omico advances Omitiomire DFS, eyes construction by 2025
With copper demand forecast to outstrip supply in the next few years, the future, according to Mark Sawyer, co-founder of Greenstone Resources, looks bright for Namibia's latest copper developer, Omico Mining, which is advancing its Omitiomire Copper project. Omico Mining was formed in 2019, through a strategic partnership between Greenstone Resources (Greenstone) and International Base Metals, when they entered into an earn-in agreement over the Omitiomire Copper Project.
Latest regulations drive demand for Booyco's technology
Following the promulgation of the Mine Health and Safety regulation on trackless mobile machinery, which came into effect in December 2022, mining houses have actively been seeking service providers to help them align with the requirements. The regulation looks to prevent collisions involving diesel-powered trackless mobile machinery and thereby reduce fatalities and related injuries in the sector.