Included in our project coverage this month is an article on Firestone Diamonds' new R2,1 billion Liqhobong mine in the highlands of Lesotho. The mine – which is expected to produce 1 million carats a year – is now entering operation and Firestone reported on 21 October that the first ore had been treated in the plant with diamonds reporting to the sort house.
Remarkably, the project has enjoyed an unblemished safety record – with 3,2 million man hours having been worked without a single Lost Time Injury.
Moving to the DRC, the huge copper resource that Ivanhoe Mines has delineated at it tenements to the west of Kolwezi in Katanga has grown even bigger, with the recent announcement by the company that it has completed a mineral resource estimate for its Kakula discovery, which is located 10 km south-west of Kamoa, its first discovery in the area. The combined resources of Kamoa and Kakula now total an amazing 944 Mt grading 2,83 % copper, containing 58,9 billions pounds (over 26 Mt) of the metal. According to Ivanhoe, Kamoa/Kakula ranks the largest ever copper discovery in Africa.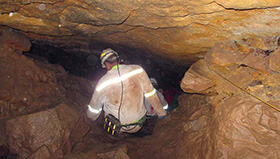 In a feature on safety, we look at Booyco Electronics, one of the main players in the PDS (Proximity Detection Systems) market and also report on a presentation given by the Chamber of Mines' Dr Sizwe Phakathi at the recent Joburg Indaba. According to Dr Phakathi, mine safety in South Africa has improved vastly over the past few years, with fatalities having fallen dramatically and most other statistics heading in the right direction.
Nordgold launches Bouly heap leach operation
LSE-listed Nordgold has announced that it has expanded its flagship Bissa mine in Burkina Faso with the launch of a heap leach operation at the nearby Bouly deposit. Bouly's average annual production will be approximately 120 koz over a LOM of 10 years. In 2016, Bouly is expected to produce up to 20 000 ounces of gold.
Baobab ships its first phosphate product
Avenira Limited reports it has achieved another important milestone at its 80 %-owned Baobab phosphate project in Senegal with the first trucking of phosphate product to the stockpile at the Port of Dakar. Avenira's strategy to develop the project is based on an initial, US$15 million, Stage 1 operation producing 500 000 tonnes per annum of phosphate product, with later stages allowing for production expansion.
Liqhobong speeds to completion
Southern Africa's newest kimberlite mine, Liqhobong in Lesotho, is now entering its ramp-up to commercial production of 3,6 Mt/a. The mine is expected to push up Lesotho's GDP by 5 % and will rank as the country's third commercial scale diamond mine.
Endeavour discovers potential heap leach satellite deposit at Ity
TSX-listed Endeavour Mining Corp has announced a new discovery at its Ity gold mine in Côte d'Ivoire called Colline Sud. The oxide mineralisation encountered at Colline Sud – which is situated just 2,5 km from the current processing plant – could serve as a satellite deposit to potentially extend the current heap leach operation.
MRS increasingly called on to assist at abandoned mines
At a recent media briefing in Johannesburg, Christo de Klerk, CEO of the Mines Rescue Services (MRS), said the organisation was increasingly being called on to assist with rescue and recovery operations occasioned by illegal mining. He said the problem of illegal mining was "spiralling out of control" and was being accompanied by increasing levels of violence as rival gangs battled each other.