This month's issue has a very full news section, providing updates on projects all around Africa. Included are a story on how Weatherly International has returned its Tschudi heap leach, SX/EW copper project in northern Namibia to nameplate capacity and a progress report on Ivanhoe's Kipushi mine in the DRC, where excellent progress has been made in upgrading and modernising shafts to prepare for a restart of operations.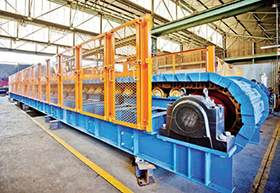 In our cover story, we feature the activities of Tenova TAKRAF Africa, which is entering 2017 with a very healthy order book after winning several substantial projects in recent months. These include a dual wagon rotary tippler for the iron ore export market and a truck loading facility for a new power station.
Geotechnical engineering is the focus of an article on Rössing uranium mine in Namibia, where a drape mesh system has been installed to address rockfall hazards on the wall above one of the access ramps. The project was successfully completed in March 2016.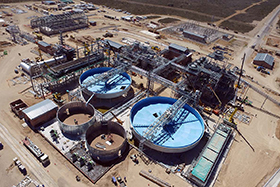 The often difficult interface between mining and the environment is highlighted in our report on the Elandsfontein phosphate mine on South Africa's West Coast. Kropz, the private company behind the development of the R1,35 billion mine, says that the project is being built to the highest standards and that the fears that have been expressed that it will unduly impact on the sensitive West Coast environment are misplaced.
Chrome/PGM producer more than doubles profits
Tharisa plc has reported record results for the financial year ended 30 September 2016. The integrated resource group's net profit after tax for the year more than doubled to US$15,8 million, compared to a profit of US$6,0 million a year earlier. The group owns and operates the Tharisa mine which is located near Marikana on the south-western limb of South Africa's Bushveld Complex.
Venetia Underground contract is a 'benchmark'
WorleyParsons RSA has been awarded the EPCM contract for the De Beers Venetia Underground Project (VUP). This is the culmination of more than a year's joint efforts by Anglo American, De Beers and WorleyParsons to resolve a benchmark industry contract and delivery methodology that will ensure the successful delivery of the project by 2022.
VBKom looks at participating in Mokopane tin project
Bushveld Minerals has announced the signing of a Memorandum of Understanding (MoU) between its wholly owned subsidiary, Greenhills Resources, and VBKom for the joint development of the Mokopane tin project in Limpopo Province. Mokopane is a brownfields tin project containing 18 447 tonnes of tin with an average grade of 0,12 % tin (Sn) on two adjacent deposits.
Innovative pre-sink gantry used on Venetia project
Murray & Roberts Cementation has developed a pre-sink gantry that has been used during shaft-sinking operations at the Venetia diamond mine in Limpopo Province. It comprises a single rail-mounted gantry which combines the stage and kibble hoists as well as the blast barricade. It can handle shaft pre-sinks from 6 m diameter up to 10 m diameter.
A string of new contracts boosts ELB's order book
ELB Engineering Services has reinforced its reputation as a leading provider of bulk materials handling and mineral processing solutions with a number of recent contract awards which are collectively worth several billion rand. The biggest of the new contracts is for the provision of EPC services for the US$400 million Gamsberg zinc project in the Northern Cape.