In a further boost to Zimbabwe's reviving mining sector, the ground-breaking ceremony for the Arcadia lithium project near Harare in Zimbabwe took place in late November, with Zimbabwe's President, Emmerson Mnangagwa in attendance. The project, covered in this issue, will have a plant throughput of 2,4 Mt/a.
Further north in Africa, we look at Resolute Mining's plans to install a new solar hybrid power plant at its Syama gold mine in Mali. Other mines that have commissioned similar systems during 2018 are Essakane, also in Mali, and Otjikoto in Namibia.
In our comprehensive news section we highlight an advanced milling control system that has been installed at the Asanko Gold Mine in Ghana. We also cover the expansion of the mineral resource at Endeavour Mining's Houndé mine in Burkina Faso, where a maiden resource has been declared for the Kari Pump discovery, and report on the Subika underground mine in Ghana. Subika, which has now achieved commercial production, forms part of Newmont's Ahafo mine.
Comment: Impressive Gamsberg on show
The US$400 million Gamsberg zinc project of Vedanta Zinc International near Aggeneys in the Northern Cape is now operational and has started the ramp up to its steady-state production level of 250 000 t/a of zinc in concentrate. Modern Mining's Arthur Tassell recently visited the project as part of a media group and was impressed by what he saw. A feature of the Gamsberg concentrator is its use – for the first time in Africa – of cutting-edge Staged Flotation Reactor (SFR) technology. Read more …
Orica rolls out its latest digital technology in Africa
ASX-listed Orica, reportedly the biggest global supplier of commercial explosives, is introducing its next generation BlastIQ™ digital blast optimisation platform to the African market. According to Ravi Moodley, Orica's Vice President Africa, BlastIQ™ – which will be officially launched in early 2019 – is "an incredible suite of technologies with the potential to revolutionise the field of blasting." Read more …
Prospect breaks ground at Arcadia
The ground-breaking ceremony for the Arcadia lithium project of ASX-listed Prospect Resources near Harare in Zimbabwe took place in late November. A few days before the ceremony, Arcadia released the results of a DFS on the project confirming its strong financial and geological merits. The DFS details a 2,4 Mt/a mining and processing operation which will generate an average annual EBITDA of US$106 million over an estimated 12-year mine life. Read more …
Syama to get pace-setting 40 MW hybrid power plant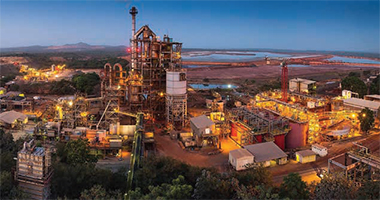 Australia's Resolute Mining has signed an agreement with Ignite Energy Projects, a leading financier, developer and operator of power projects, which will see a 40 MW solar hybrid power plant being installed at its Syama gold mine in Ghana. According to Resolute, the new facility, once commissioned, will rank as the world's largest off-grid, fully integrated hybrid power plant for a standalone mining operation. It is expected to be fully operational by the end of 2020. Read more …
Bisie tin project heads into the home straight
Alphamin Resources is making good progress on its Bisie tin project in the DRC, with construction 88 % complete as of late November 2018. Commissioning is expected in the first half of 2019 with steady-state production being achieved towards the end of the year. In an interesting development, Alphamin is now looking at using the cut-and-fill mining method in the underground mine rather than the sub-level caving method originally contemplated. Read more …
ACH emerging as a new name in materials handling
An up-and-coming materials handling and engineering company that is currently enjoying very strong growth is eMalahleni-based African Commodity Handling (ACH), which specialises in providing products and services to a number of industries, most notably mining and power generation. ACH represents Germany's SCHADE Lagertechnik, a leading manufacturer and supplier of materials handling equipment, in Southern Africa. Read more …
TAKRAF Africa ends 2018 on a high note
Key supplier TAKRAF Africa ends 2018 maintaining its long-held position as a leading materials handling specialist servicing the African continent. Recent contracts have included the supply of a dual-wagon rotary tippler, complete with positioner and ancillary equipment, to a major iron ore project. With unloading rates in excess of 100 wagons per hour, the tippler has the ability to tip two wagons simultaneously. Read more …