Lubrication Engineers (LE) South Africa is now an agent for the TST FDSys.P Flaw Detection System, a portable steel-wire-rope inspection solution that enables 100% accurate non-destructive inspection of wire ropes with diameters ranging from 6 to 70 mm.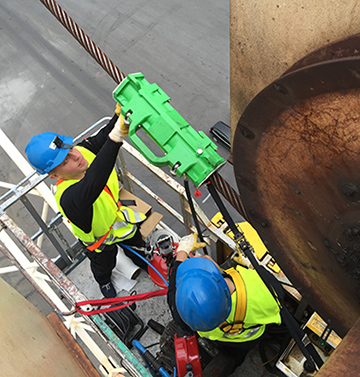 "We're very excited to have added the TST products to our stable," says LE South Africa managing director Colin Ford. "They allow instant, real-time, portable detection of wire rope flaws such as broken wires, corrosion, pitting, abrasion and fatigue. The TST Portable Wire Rope Tester is ideal for inspecting wire ropes on mine hoisters, cranes, elevators, cableways, power grids, suspended bridges and drilling platforms."
Ford says the TST Portable Wire Rope Tester uses magnetic inductive sensing technology and magnetic flux leakage (MFL) wire rope inspection techniques. Essentially, fault events leave a magnetic signature, which the detector can pick up. This, says Ford, allows for high-speed, accurate and user-friendly inspections.
The TST Portable Wire Rope Tester can inspect upwards of 5 m/s (or as limited for safe operation). It offers >90% repeatability of quantitative detection for flaws, and 100% accuracy of severe flaw signals. It picks up both flaws, such as internal broken wires and fatigue, as well as external flaws, such as broken wire, abrasion and corrosion.
"When paired with products like our Viper MK II wire-rope lubricator, the TST Portable Wire Rope Tester helps us to ensure we're offering our customers a one-stop shop," says Ford. "Not only can we help them to ensure their wire ropes are always properly lubricated with an automated system, which improves safety, reduces downtime and ensures total coverage; we can now also ensure that they have an accurate, up-to-date understanding of the condition of their wire ropes. Inspections will be faster and the information will be more accurate. We look forward to seeing the TST Portable Wire Rope Tester in action in our customers' businesses, and the benefits they will derive from it."