On the Cover: A huge part of Afrimat's success over the years has hinged on its diversification strategy. Not only does this apply to its product line, but also to its geographical footprint. Its North Cluster – a combination of operations across South Africa's key regions of Gauteng, KwaZulu-Natal and the Free State – is a case in point of an interconnected support system, which demonstrates how the construction materials giant places immense value on its geographical footprint and proximity to the market and customers.
Most business professionals agree that, although it does not guarantee against loss, diversification is the most important component of achieving long-term financial goals while minimising risk. Diversification is a business strategy aimed at maximising returns by investing in different areas that would each react differently to the same event. Afrimat is one such company that has truly and successfully pioneered diversification.
With its roots in construction materials, the company has in recent years spread its wings to include Industrial Minerals and Bulk Commodities. Afrimat's diversification strategy has not only applied to its product range, but also to its geographical footprint across the country. This enables the company to service projects of any scale, from major infrastructure and construction projects for state-owned enterprises and parastatals through to small private sector contracts.
A good example of this strong focus on its footprint is the reinforcement of its North Cluster region in recent years. The North Cluster includes operations across Gauteng, KwaZulu-Natal and the Free State, with a focus on Construction Materials (Aggregates and Concrete Based Products) and Industrial Minerals.
Through carefully considered acquisitions and subsequent turnaround strategies, Afrimat has over the years grown the footprint of its Construction Materials operations in this region to 32: three in Gauteng, nine in Free State and 20 in KwaZulu-Natal. This is complemented by the flagship Gauteng-based Glen Douglas Dolomite Mine, the only industrial mineral operation in the region.
The region contributes a significant portion of the company's overall Construction Materials business. "During the past financial year, the North Cluster contributed 38% of the Construction Materials business's profit and 12% of Afrimat's profit," explains Davin Giles, MD North Cluster.
Quality standards to the fore
With its industry-wide survey currently under way across member operations, surface mining industry association, ASPASA, seeks to gauge the extent of laboratory facilities at each of the member facilities to assist with the planning of the implementation of its newly-introduced technical quality audits.
Increasing requirements for certified quality aggregates has led surface mining industry association, ASPASA, to introduce its own guidelines and auditing systems to ensure testing of aggregates and crushed granular materials is done in accordance to South African National Standards (SANS) 3001 AG and GR series test methods.
In future quarries belonging to ASPASA will have an option to participate in an annual audit designed to measure compliance of testing facilities including their apparatus calibration and personnel competence against an abridged ISO 17025 format, to ensure the correct classification of products.
Over time, as their systems improve, they can opt to obtain accreditation through South African National Accreditation System (SANAS) for ISO/IEC 17025 – General requirements for the competence of testing and calibration laboratories.
According to Barry Pearce, chairman of ASPASA's technical committee, the audits complement the association's well established environmental (About Face) and the health and safety (ISHE) audit systems, which have contributed to the association's recognition internationally as a leader in these fields.
"Now, the idea is to help ASPASA members to produce better quality products that are tested consistently to meet the specifications of their clients as well as national standards – where required. It entails the inspection of the laboratory including the testing apparatus and the verification of procedures," says Pearce.
"The audits will be simple but thorough and will leave the quarry in no doubt as to what is required. With this in place, producers can confidently supply their products without fear of material rejections in future, provided that the necessary procedures are followed," he adds.
The importance of dust suppression at quarries
Dust poses one of the greatest threats to health and safety at quarries but the evolution of dust suppression systems is enabling quarries to deal with dust effectively. This feature highlights the various methods of preventing dust from escaping from its source, and explores the available methods and technologies used in dust suppression.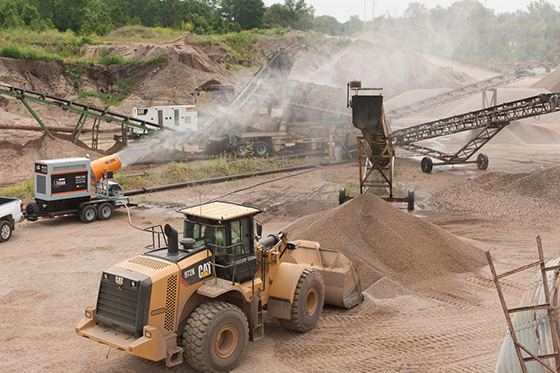 Mining and industry face increased exposure to dust and other natural obstacles in their daily operations, says FlowCentric Mining Technology CEO Jacques Wessels.
"It is such a rapidly increasing problem for mines and their surrounding communities that the government included the administration and suppression of dust in the health and safety requirements for the operation of mines or industrial sites."
He says dust is airborne dirt and other particles posing health risks including lung and other diseases. It is also the biggest cause of accidents in the industry.
"Without proper dust suppression treatment, you run the risk of occupational diseases including irritation to eyes, ears, nose, throat and skin; dust explosions and fire; damage to equipment; impaired visibility and health hazards to the local communities."
Mike Lewis, VP of sales at US-based industrial dust and odour solutions company Boss-Tek, agrees: "Worker health and safety is the primary reason why dust control is critical to so many operations. An environment with airborne quarry dust, which often contains silica, creates a worker safety hazard. In addition, the quarrying company could be held liable if employees develop illness or chronic disease due to long-term dust exposure."
Pilot Crushtec International's sales and marketing director Francois Marais says dust pollution has been a growing environmental concern over the past decade and expects it to "grow as a focus of concern over the coming years".
He agrees that, in terms of health and safety, many of the "most serious" risks to on-site staff are either caused or exacerbated by dust. Dust suppression, he says, is an essential element of any effective health and safety policy.
"In terms of plant maintenance, air filters and greased parts are some of the most frequently maintained items on any quarry. These items are extremely sensitive to high levels of dust, making dust suppression one of the best ways to decrease maintenance time and increase productivity on site."
"Wear and tear on equipment," says Boss-Tek's Lewis, "increases when dust gets into every nook and cranny on machinery. This poses a housekeeping issue: having to clean up accumulated dust at some points in the facility."
I-CAT business development manager Eugene Kleynhans agrees that dust suppression is crucial at quarries to improve the health and wellbeing for employees and surrounding communities. He says using road dust palliatives on the gravel haulage roads at quarries also "contributes to increased safety in terms of visibility, and decreases rolling resistance and maintenance intervals, while saving water."