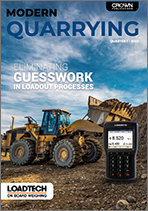 On the Cover: Given that the precise determination of the weight of products being carried at quarries is a crucial parameter in the daily functions of operations, it is essential to adopt efficient and accurate on-board weighing solutions. With the Trimble Loadrite L3180 SmartScale, the next generation of onboard weighing that uses artificial intelligence for more accurate, precise and faster loading, quarry operators can better optimise loadout, track productivity and prevent overloading.

With an anticipated rebound of the construction sector in South Africa in 2022, the more pressing concern for quarries is being able to ramp up production to meet the projected demand for aggregates. In an environment where emphasis is fixed firmly on output, the Trimble Loadrite L3180 SmartScale from Loadtech Load Cells can give quarry management the 'pulse' of the entire operation, putting productivity in their hands.

The quarrying industry has a dynamic operational environment that makes it essential for the sector to deploy the right tools and systems to raise the bar of performance and efficiency. These tools have the power to directly affect the output and profitability of any quarrying business.

One critical tool that must form part of every quarrying business, argues Glen Webster, sales director at Loadtech Load Cells, is the on-board weighing system. There are several instances in quarries when weighing from a specific site becomes purely inefficient and inconvenient. This is where on-board scales come into play. The digital display fitted in the cabin of the vehicle offers easy assessment of weight metrics, thus minimising supervisory overheads and human error.

Monitoring – changing the game for crushing plants

In an environment where margins are tight, aggregate producers are on the lookout for ways to increase efficiencies while reducing costs. While monitoring technology in crushing and screening is not necessarily new, Fernando Abelho, Africa sales manager at Pilot Crushtec International, tells Modern Quarrying that recent improvements in reliability and streamlining of information delivered by monitoring systems have changed the game for crushing operations.
While much of the technology currently available in and around crushing and screening has been available for decades, what has changed significantly in recent years, says Abelho, is the reliability of monitoring technology and the streamlining of the information delivered by the monitoring system. Modern systems only provide information that is relevant and that adds value, thus information overload is eliminated.
The first generation of mobile vertical shaft impactors (VSIs) that Pilot Crushtec manufactured, the Twistertrac AC210, is a classic example of the downside of information overload, says Abelho. A large number of different parameters – 64 in total – were monitored remotely via a cellular modem. These parameters included hydraulic pressures, temperatures and engine diagnostics. Not only could all these functions be monitored remotely but the unit could even be operated remotely from anywhere in the world via the same modem.
Transforming crushing operations
Monitoring technology has over the years ushered in a new era in crushing. With the onset of connectivity and digitalisation gaining momentum as end-users redefine their investment strategies, Theo Hendricks, product manager comminution at Weir Minerals, tells Modern Quarrying how the company's Synertrex platform, an advanced IIoT technology, is helping crushing operations transform their operations.
With Synertrex digital solutions, Weir Minerals has created products that learn, that let customers know when something is wrong, and that can solve a problem before it starts. Developed by Weir, Synertrex smart analytics platform is easily integrated into customers' existing systems. Synertrex gives customers an advanced level of understanding by allowing operators to monitor every aspect of their equipment's operation, prevent problems and increase throughput.
Weir Minerals uses its Synertrex intelligent platform for monitoring Trio® cone crushers, says Hendricks. "Monitoring encompasses several areas, notably the health and performance of the crusher, the lubrication system, the hydraulic and control system, as well as crusher loading. Equipment utilisation can be accurately monitored and measured, while component replacement can be planned and executed on an optimal basis," he says.
For the Enduron HPGR, adds Hendricks, health conditions such as bearings and lubrication, hydraulics, drivetrain and tyre wear can be monitored using Synertrex technology. Performance parameters such as throughput and equipment utilisation can be monitored. Equipment utilisation in turn allows for monitoring the estimated replacement interval.