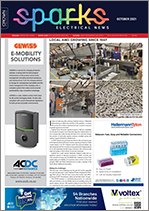 It does not take long after entering Crabtree's factory in Wadeville, Johannesburg, to realise the enormity of the operation. It is abuzz with activity, the rumble of machines and ever constant movement of people, equipment and stock. Crabtree South Africa first opened its doors in 1947, as a subsidiary of a UK parent company. From those early days, the Crabtree ethos is to be a company that meets the high demands of its customers through the provision of technically superior products, unrivalled service and superior support and back-up infrastructure.
Elsewhere in the issue we look at Energy Measurement and Supply, MCCs and Motor Protection, and Lighting.
The person who wears, cares for and uses protective clothing properly
As an employee of electricians, determining the necessary types of protective clothing to protect them from the hazards associated with flames and electric arcs is the first safety step.
Tips for effectively marketing your electrical business online
When the lights are off and no one is in the office, your business is still open. Even during regular business hours, most of your customers probably visited your website before calling. With the internet at most people's fingertips, your business is accessible 24/7. Therefore, online presence is crucial because it is where people research your company and determine if they are interested in doing business.
Working Knowledge with Terry Mackenzie Hoy
According to Wikipedia, in electrical and safety engineering, hazardous locations are places where fire or explosion hazards may exist. Sources of such hazards include gases, vapours, dust, fibres, etc., which are combustible or flammable. Electrical equipment installed in such locations could provide an ignition source, due to electrical arcing, or high temperature. This may lead to an explosion.
Complete LED lighting solution for Polokwane taxi ranks
BEKA Schréder is proud to have supplied the LED solar lighting solution for two popular taxi ranks in Polokwane. The City of Polokwane wanted to install a lighting solution at the busy Spar and Pick 'n Pay taxi ranks, to increase safety for its commuters at night. Furthermore, this lighting installation had to continue operating during power outages.
Buyers Guide
The October 2021 Buyers' Guide lists manufacturers and distributors of products and services in the Motor Control Centres and Motor Protection sector. Download the latest Buyers' Guide here.