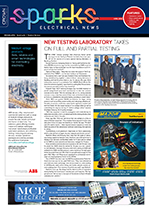 New testing laboratory takes on full and partial testing
The SABS' 'internal directive' that effectively halted partial testing at its test facility in Pretoria has had a fortuitous spin-off for the owners of a newly-opened testing laboratory in Wynberg, Sandton.
George Mashinini, managing director at Testing and Conformity Services (TACS) Laboratories says that the stance taken by SABS on partial testing "does not have to be bad news for local manufacturers and importers of electrical products".
Khakhane Motaung (quality manager), George Mashinini (managing director) and Frederick Nkosi (technical manager) from TACS Laboratories (Testing and Conformity Services Laboratories) have installed state-of-the-art testing equipment in their Wynberg laboratories.
Sparks Personality of the Month
Rhodam Evans, the product manager at Major Tech for the past eight years, has notched up numerous successes in product development and the launch of a new range of switches and sockets.
Rhodam's late father, David Evans, was well-respected in the electrical industry and he left big shoes for his son to fill. Rhodam has done that with resolute determination and not a small amount of old school integrity along with the good fortune of being mentored by CEO of Major Tech, Pat Shaw.
Columns
In his April column, Working Knowledge, Terry Mackenzie Hoy talks about motor control centres and gives some interesting background to the development of motor control centres. "A well-designed MCC is a pleasure. And a badly designed one is a nightmare. An overdesigned one is silly," he says.
In his April column, Getting to grips with SANS 10142-1, Hannes Baard moves on from the definition of 'electrical installation' and discusses what happens before the 'point of control' and/or beyond the 'point of consumption' ... and sometimes in between.
Mark Palmer of the Electrical Approved Inspection Authority Southern Africa (EAIASA) goes into the general safety principles applicable to electrical installations that apply equally to new, altered or temporary electrical installations.
Nick du Plessis' April column on training and development is a must read for all young electricians who are considering working on motor control centres. He gives some background and spells out the requirements to work on MCCs.
Contractors' corner
This regular feature covers new products and industry news – and this month we report on new tools from Knipex: a universal dismantling tool and needle nose combination pliers available from Garry Lumpe Imports; motor control centres and VSD panels supplied to a chrome recovery plant by JB Switchgear Solutions; Flir's thermal imaging clam meter; and some advice on maintaining transformers from WEG Transformers Africa (a division of Zest WEG Manufacturing).
Motor control centres
In this month's feature about motor control centres, there is industry news from Comtest about the Fluke TiX 560 and TiX520 infrared cameras with extra-large LCD touchscreens that make a thermographer's job a lot easier. We look at a compact handheld vibration meter from Instrotech, and motor protection relays from NewElec. There is also news from ABB about the new Pro E-Power modular switchboard and a comprehensive look at Shaw Controls' motor control centres that are IEC 61439 certified.
Buyer's Guide
The April buyer's guide lists manufacturers and distributors of products and services that cover the spectrum of motors and drives – from cabinets for motor applications and drives and soft starters to cable glands and motor protection
Cables and cable accessories
In the April cable and cable accessories feature, ACDC Dynamics shows off its easy-to-install cable trays; we look at Fluke's multi-purpose cable locator and a label printer from Brady that identifies cables and components; and readers get some tips from Comtest on how to safety check meters in the field.
Lighting
New products, lighting installations and technological advances are highlighted in the regular lighting feature. In April there is a most informative article on LED electro-magnetic interference compliance in practice authored by Dr Marthinus Smit of Shuttle Lighting. Aurora's Warwick Webber discusses the new ultra slim LED downlights from the Slim-Fit range; and BEKA shows off its solar powered street lighting contract that has given three rural townships in Limpopo Province a new sense of security at night. Eurolux introduces the new uber cool range of carbon filament lamps; and we look at Genlux Lighting's 'renewable ready' LED Aether high bay lighting. OSRAM shows off its PrevaLED Linear FIT D and OPTOTRONIC FIT D lamps; and there is news about BEKA's Yoa streetlights that combine design and performance.