Assemblies that are correctly operated, properly maintained, well designed and verified in accordance with the IEC 61439 series very rarely incur an internal arcing fault in service. However, if periodic maintenance is not adhered to, the potential consequences when such a fault occurs become more severe. This, together with the ongoing pursuit for ever greater safety, is bringing internal arcing faults within assemblies to the fore.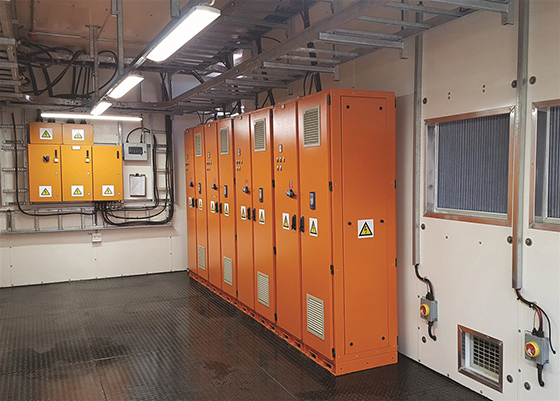 In the belief that their personnel will be 'safe', increasingly, users of low-voltage assemblies are calling for them to comply with IEC 61641; Enclosed low-voltage switchgear and controlgear assemblies — Guide for testing under conditions of arcing due to internal fault. Since the document is a TR (Technical Report) it does not carry the full weight of the law in the same way that a full Standard can. Whilst in some circumstances specifying that equipment has to 'comply' with IEC/TR 61641 will lead to greater operator safety and reduced down time in the event of an arcing fault within an assembly, it is not a 'cure for all ails'.
Before specifying 'compliance' with this requirement an objective assessment should be carried out considering the whole application to determine if 'compliance' with 61641 brings worthwhile benefits. Making the right choice in respect of an assembly 'complying' with IEC 61641 is complex. It requires a good understanding of the intended application for the assembly, knowledge of the design and use of assemblies and a detailed understanding of IEC 61641.
WEG Automation Africa is positioned to provide everything from the entry level Motor Control Centres – still fully compliant with IEC 61439, right up to the most sophisticated Motor Control Centres in numerous configurations. "We can manufacture front access, back access, and even back-to-back MCC in both fixed pattern and fully withdrawable," explains Bevan Richards, Executive of Zest WEG's division WEG Automation Africa. "We place a lot of focus on IEC 61641 and regularly explain to our clients that it is the best way to go to ensure safety for their staff. The traditional fixed pattern motor control centre that has been used extensively in the mining industry in Sub Saharan Africa, with the full specifications for IEC 61439, and IEC 61641 can be offered. On the other hand, we can also offer the most sophisticated fully withdrawable motor control centre for the very high-end users in petrochemical, gas and oil also with the full specifications for IEC 61439 and IEC 61641."
Tyrone Willemse, Business Development Consultant at WEG Automation Africa notes that while there have been numerous articles written on IEC 61641, there are always new people in the industry, and often, there is a misinterpretation of the information. As a globally competitive local manufacturer in South Africa, Richards notes that you have to find partners or consultants to help you develop products which not only comply to the standards, but also meet customer's expectations. "As this industry is so technical, it takes a lot of time and you need a huge engineering team."
Zest WEG is in the enviable position of being part of a global group which is at the forefront of technology. "Our R&D team in Brazil has just tested our most sophisticated MCC yet – it is a fully withdrawable Motor Control Centre, which they have tested successfully up to a fault level of 100 KA with IEC 61461," he says.
Causes of internal arcing faults
Internal arcing faults within assemblies occur for of a number of reasons, for example:
Insulation breakdown
Contamination or moisture on insulation leading to tracking
Faults in materials or workmanship
Load current arcing across a loose or deteriorating joint
A foreign object within the assembly, e.g. a tool
Lack of, or inappropriate, maintenance
Inappropriate operating conditions
Incorrect operation
Entry of vermin
Operator errors while working adjacent to live equipment.
Effects of an internal arcing fault When an internal arcing fault occurs within an assembly, a large amount of energy is released in a fraction of a second. The amount of energy released is a function of the prospective short circuit current, the arc resistance and the time it takes the protection upstream of the fault to operate, or, the time taken for the arc to self-extinguish. Typically, with a 400 V system the arc fault current is 60% of the prospective short circuit current. If the prospective short circuit current is reduced and/or protection upstream of the fault operates quicker, e.g. current limiting type compared with the definite minimum time protection, the energy released and the consequences of the arcing fault are significantly reduced.
An arc within an assembly creates a very high temperature and a conducting ionised gas. Assuming the assembly is enclosed, the energy released causes a high gas pressure within the enclosure, often 'blowing' covers off or doors open. Generally, the magnetic forces associated with the fault current drive the arc away from the source of the current and towards the extremities of the assembly. Unless the arc is blocked by robust barriers it will generally be at the remote end of the main busbars or other main conductors. On some occasions the arc will burn clear before the upstream protection operates. Generally, it will cause significant damage to the assembly; allowing the emission of the high temperature ionised gas and vaporised metal. Gases and vapours emitted can, if a person is in the path of the emissions, cause serious burns and in extreme cases, death.
Unfortunately, low voltage arcs are not totally predicable. Seemingly identical conditions can give different results. On one occasion the arc can self-extinguish; on others, it can persist until interrupted by the protection. Alternatively, the arc can propagate in different ways for apparently identical conditions
Enquiries: www.zestweg.com