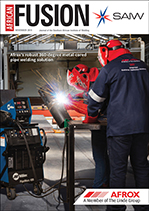 Afrox is on our front cover for November, with its 360-degree Miller PipeWorx welding solutions for pressure piping in the power industry. SAIW news comes from the 71st Annual Dinner and Awards and we introduce new executive director John Tarboton and highlight an upcoming Level 3 NDT course programme to begin in early 2020.
Our SAIW Member profile comes from ASME III-accredited Necsa Nuclear Manufacturing; the technical paper from voestalpine Böhler Welding summarises the use of flux-cored wires for welding liquefied gas pipelines; and we include welding industry articles from Polysoude, Air Liquide, Fronius, ESAB, Hydrarc and Lincoln Electric.
Front cover story: Afrox's 360-degree MCAW solution for HP piping.
Following several years of persistence, Afrox's welding applications team, in association with Babcock Ntuthuko Generation, has succeeded in qualifying a repeatable and robust procedure for welding high-pressure piping. Read more...
John Tarboton's message
Quoting Greek philosopher, Heraclitus, who said change is the only constant in life, John Tarboton argues that the SAIW is poised for growth, but this growth will require change. Read more...
SAIW celebrates achievements amid turbulence
With sponsorship from Afrox, ESAB and Wits University's School of Chemical and Metallurgical Engineering (CHEMET), the SAIW held its 71st Annual Dinner and Awards ceremony at Emperors Place in Gauteng on October 25, 2019. African Fusion reports. Read more...
Necsa Nuclear: SA's nuclear accredited fabrication facility
Our SAIW Member profile for this month comes from Necsa Nuclear Manufacturing, which is the only nuclear-accredited facility in sub- Saharan Africa. African Fusion visits its workshops in Pelindaba and meets the company's ASME III-, ASME VIII-, ISO 9001- and ISO 3834-accredited fabrication team. Read more...
Evaluation of austenitic and nickel-base flux-cored wires for welding of ferritic 5 to 9% Ni steels for low temperature service
This paper by Hannes Pahr, Elin Westin and Gerhard Posch of voestalpine Böhler Welding in Austria was presented at the 72nd IIW Annual Assembly and International Conference in Bratislava, Slovakia in July 2019. It summarises an evaluation of the use of flux-cored wires for welding the ferritic nickel steels used for liquefied gas pipelines and tanks. Click to read in the online publication...
Orbital pipe welding for improved safety
ARTIS, a company in the west of France, specialises in the production of industrial pipe networks and buried pipelines for the transport of fluids such as gas, oil and water. This article highlights the advantages being experienced by ARTIS from using Polysoude orbital welding systems to meet the quality and safety requirements for welded pipe. Read more...
Microbulk gas supply offering, a customer's view
This article summarises a customer experience of Air Liquide's Microbulk gas supply offering. Mwali Kawawa and Thuso Oliphant of Air Liquide visit Scheffer Mechanical Technology and share some insights on how Microbulk has been received. Read more...
The perfect duet: TPS/i TWIN push tandem welding
Fronius' high performance TPS/i TWIN push tandem welding system enables significantly higher deposition rates and welding speeds, while reducing the amount of pre-fabrication and rework required. Read more...
ESAB ARCAIR SLICE: cuts, burns or pierces anything, anywhere
Eugene van Dyk of ESAB South Africa unpacks the Arc SLICE exothermic cutting solution, an alternative cutting process that is highly portable and highly suitable for onsite and difficult to access cutting work. Read more...
Hydra Arc: a plant maintenance and fabrication leader
Lizelle Maciel of the Hydra Arc Group tells of the company's 30 year history and gives a sense of its transition from a supplier of specialists welders into a leading provider of maintenance fabrication services to petrochemical and other industries. Read more...
SAIW Bulletin board Click to read in the online publication...
Welding and cutting forum Click to read in the online publication.
Today's technology: AIR VANTAGE® 600-i from Lincoln Electric Read more..