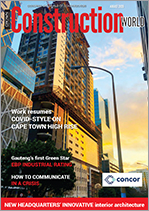 ON THE COVER: The highest residential block in Cape Town's city centre – 16 On Bree – has resumed construction, but under demanding new COVID-19 conditions. The project is being developed by FWJK Developments.
This makes Concor Western Cape, the contractor on the project, a pioneer in the application of COVID-19 health protocols in a building of this height and complexity, says Senior Contracts Manager, Collin Morilly.
Gauteng's first Green Star EBP Industrial rating
In April 2020, Growthpoint and Serra® Services achieved the first Green Star Existing Building Performance (EBP) rating for an industrial building in Gauteng, with a 5-Star certification for a 7 400 m2 facility in Meadowbrook, Germiston.
Situated in a mixed industrial and residential area in the east of Johannesburg, the light manufacturing building, comprising a workshop and offices on two floors, is owned by Growthpoint Properties and was leased by Serra® in 2016. An extensive process was undertaken by both landlord and tenant, in consultation with Solid Green Consulting, to achieve this Green Star EBP 'first'.
Shining at landmark Longkloof Precinct project
Franki Africa recently called on its experience to prevail over an array of challenges to deliver a two-level basement with depth of up to 10 m at Growthpoint Properties' famed Longkloof Precinct project in Cape Town, on time and within budget.
Specialist geotechnical contractor Franki Africa was recently contracted to deliver a two-level basement for the construction of the Canopy by Hilton Cape Town Longkloof hotel developed by Growthpoint Properties, South Africa's largest real estate investment trust. The 150 guestroom building will be the Canopy by Hilton brand's first property in Africa
SMEC South Africa appoints Logashri Sewnarain as CEO
Engineering and infrastructure consultancy firm SMEC South Africa is pleased to announce the promotion of Logashri Sewnarain to Chief Executive Officer (CEO), effective August 1, 2020, following the retirement of Kostas Rontiris.
Joining SMEC in 2018, Logashri brings over 24 years' experience in managing major roads projects in South Africa as a senior level Professional Engineer and Professional Project and Construction Management Executive. Prior to her appointment as CEO, she held the role of Functional General Manager, Roads & Highways.