A new shopping centre in Tshwane's Mamelodi is under construction and expected to be completed by October 2022.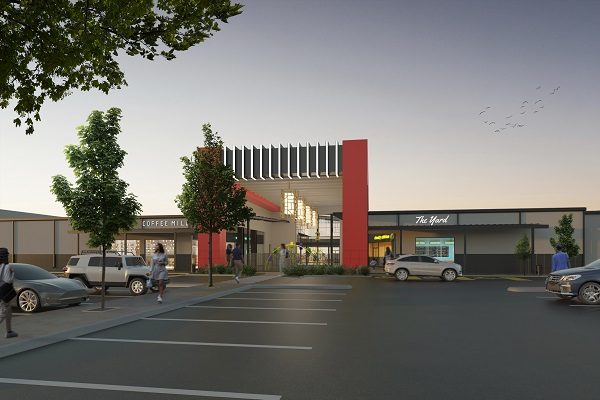 The shopping centre was designed by award-winning MDS Architecture for developers McCormick Property Development and Putprop Limited, a listed property group. It is located in the heart of Mamelodi.
Louis Pretorius, partner at MDS Architecture, says the single level shopping centre will be enclosed and will offer 16 640m² GLA.
"Mamelodi Square is situated in an area with limited business premises. It will serve the community by offering an array of shopping options, a food court and children's play area. For this reason, it was important to ensure easy access from both Tsamaya Avenue and Shilovhane Street," says Pretorius.
The entrances are large, bright red portal structures which pop against the exterior neutral colour palette in shades of grey. The food court and children's play area are situated at one of the prominent entrances into Mamelodi Square. Lighting of the mall and the entrances was given a lot of thought during the design process.
Says Pretorius, "The design incorporates as much natural light as possible at the entrances, as well as through clerestory windows along the mall and the courts. Mamelodi Square also features a series of roof lights."
The interior floor tiles in neutral shades of grey are set in patterns down the mall and in the courts. These same patterns are repeated on interior bulkheads in different colours to add interest and entice shoppers to explore the whole shopping centre. Creating further interest, artificial lighting is included across the malls and through various hanging pendants.
Mamelodi Square has parking for 322 cars and a taxi rank that can accommodate 43 taxis.
Professional team
Architect: MDS Architecture
Main Contractor: Tri-Star Construction
QS: Quanticost
Civil & Structural Engineer: Hannes Hattingh Consulting Engineers
Electrical Engineer: Ingplan Consulting Engineers
Fire & Mechanical Engineer: Pretocon
Wet Services: SJ Franklin
Landscape Architect: Bertha Wium Landscape Development
Town planner: Landmark