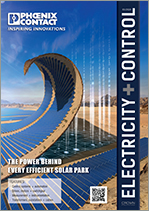 The March 2020 edition of Electricity + Control features Control Systems + Automation; Drives, Motors + Switchgear; Measurement + Instrumentation; and Transformers, Substations + Cables – all critical elements in industry today and all essential in bringing together the energy + information that drives industrial production.
EnI Electrical notes that as an electrical control and instrumentation specialist it is usually the last contractor on site in the rollout of industrial projects. From overhead power lines, to substations, medium voltage and low voltage cable reticulation, to motor control centres, lighting, earthing protection and energy management systems as well as process instrumentation and plant automation – linking up the electrical infrastructure, connections and equipment is one of the final stages that enables projects to meet scheduled start-up dates. EnI strives to help its clients meet their deadlines.
Looking specifically at control systems + automation, Beckhoff Automation presents the case study of its XTS – eXtended Transport System – as used in the Roche Group's Mannheim facility in Germany to produce a newly developed range of plasma separation cards. This illustrates how industrial automation can be harnessed to serve healthcare: the XTS technology enables efficient production of the PSCs which simplify the testing and monitoring of HIV patients living in remote areas, because the plasma samples no longer need to be kept cool during transport to the laboratory; the samples can be preserved in transit for up to six weeks.
In Drives, motors + switchgear we report on a number of major contracts where the electrical equipment has been delivered, to order, to mining projects, and we look at some new developments in products + services in this field.
In Measurement + instrumentation, R&C Instrumentation outlines the advantages of using two-colour or ratio pyrometers, rather than standard one-colour thermometers, to ensure accurate temperature readings in particular industrial applications.
BMG's Fluid Technology Division presents two core ranges of butterfly valves that are recommended for high efficiency and safety in demanding industrial flow control applications.
With WearCheck – a company that is well recognised internationally for its condition monitoring and plant maintenance services – we take a closer look at the best measures that can be taken to keep power transformers in good working order. Regular testing of the transformer oil or fluid is a cost-effective and sound maintenance practice that contributes to extending the equipment's service life.
The Zest WEG Group highlights its move into local production of transformers for the renewable energy sector with the delivery of 36 specialised PV transformers to a solar PV plant in the Northern Cape. It also reports the installation of an impulse voltage generator at its Heidelberg manufacturing facility, which enables it to test transformers in-house, enhancing local engineering capacity and entrenching global standards.
In our regular column on Reskilling, Upskilling + Training we look at the Enel Foundation's Open Africa Power extended education programme, which kicked off this year in February at UCT's Graduate School of Business. The programme is aimed at empowering a new generation of leaders to drive Africa's clean energy transition and the 2020 edition has introduced a new partnership with the Nelson Mandela Foundation, promoting a more just society in Africa through education.
There's more to discover in the back pages on Engineering the Future, Cybersecurity and Write @ the back.