As part of the Nexelia offering for automotive and metal fabrication, Air Liquide has developed a unique set of proprietary nozzles for modern laser welding processes. African Fusion finds out more from Rolf Schluep and Rob Lawrence.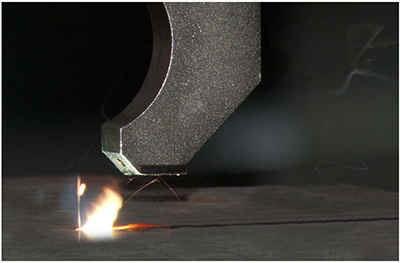 "As today's laser welding technology progresses towards higher production rates, it also has to overcome key challenges," begins Schluep. "Laser power is increasing and the technology is becoming easier to handle. Additionally, solid-state technology has become more affordable, and, as automation progresses, capital expenditure is simpler to contain," he says.
In addition to the type and power of laser source, weld quality and operations are also influenced by choice of shielding gas and how it is controlled at the point of use. "Whatever our customers need to maximise their welding quality and operations, Nexelia for laser welding can offer an optimised solution," he tells African Fusion.
Laser welding is now being widely adopted in the automotive sector by both OEM and first tier suppliers who require welding of dissimilar materials in order to produce a tailored blank. Additionally laser welding of gears and transmission components is becoming ever more popular. Apart from this, tube welding applications also benefit from the inherit advantages of laser welding. "For stainless steel tubing, high-speed and accuracy are essential elements for the manufacturing process," adds Lawrence. "Perhaps surprisingly, laser welding is also now commonly used for carbon steel welding, with the technology having matured to the point where the costs per part are competitive," he says.
"Lasers are ideal for welding dissimilar materials and, due to the very narrow heat affected zones, using lasers to weld zinc-plated materials has now become a mainstream solution for non-critical applications. Zinc-coated thin steel body panels at are now routinely being assembled using CO2 lasers, or increasingly, solid state fibre lasers," Schluep reveals.
While Air Liquide has long been a supplier of both high quality lasing and process gases required for welding and cutting applications. Commonly used gases are N2 and O2 for cutting and argon, helium and argon/helium mixes for laser welding. "Our Nexelia offering takes laser welding well beyond simply supplying gas," he continues.
"Nexelia differentiates Air Liquide ...