Automation technology is transforming the mining industry and empowering drilling operations across the globe. The updated SmartROC D65 is the latest drill rig from Epiroc to make evolutionary strides. The tried and trusted rig now has Epiroc's innovative automation-ready platform as its foundation. The new SmartROC D65 premieres at bauma in Munich, which ran April 8-14.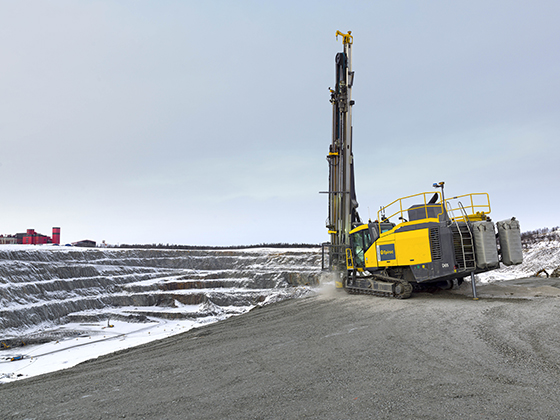 The new SmartROC D65 has the intelligence and power to consistently and efficiently drill high-quality blast holes with accuracy and precision, and is loaded with smart features such as automated drilling and rod handling. The automation-ready platform also includes the new Auto Feed Fold feature. With the press of a button, Auto Feed Fold enables the operator to fold the feed for tramming or position it for drilling. This also comes in handy when operating one or more drill rigs remotely.
"The SmartROC D65 really proves the power of autonomous machinery and brings the future of mining within reach today," says Mattias Hjerpe, global product manager at Epiroc. "Automation is revolutionising the industry, and we want our customers to remain at the forefront to secure the rewards."
The SmartROC D65 is available in three different feed beam sizes to carry 5-, 6- or 8-m pipes, and has the capacity to drill down to a depth of 56 m. When using 8-m pipes, it is possible to drill 16-m production holes with just one rod adding. The added power of the COP M7 hammer enables the SmartROC D65 to drill holes up to 110 to 229 mm in diameter.
Thanks to intelligent control of compressor load and engine rpm, the SmartROC D65 not only helps to optimise the blasting process with improved fragmentation. It also cuts an already low fuel consumption by a further 20% compared to the same size FlexiROC rig model. In addition, the rig offers multifunction joysticks and adjustable-speed tramming to further improve operator comfort and make trailer loading safer and easier.
"The new SmartROC D65 will help our customers to decrease operational costs and boost productivity," says Hjerpe. "Automation translates to greater efficiency, and efficiency translates to greater profits."
The operator interacts with the rig's advanced control system via a responsive, 15-inch touchscreen that presents everything from drilling parameters and diagnostics to real-time Measure While Drilling data (MWD). In addition, the updated SmartROC D65 is equipped with an efficient hydraulic system that reduces fuel burn and works with fewer pumps and hoses than the previous versions.