MechChem Africa summarises recent events and activities of the SAIChE IChemE regional members groups in the Western Cape, Gauteng and KwaZulu-Natal.

Western Cape Members Group
In the first half of 2018, two very successful webinars were arranged by Prof Jim Petrie and hosted by IChemE at UCT.
The committee members of the Western-Cape Student Chapter, Kai and Alexandra, promoted SAIChE-IChemE at the University of Cape Town's, Engineering and Built Environment (EBE) Postgraduate Student Council (PGSC), a student governance body that aims to provide a lasting impression of university experiences to its postgraduate students. Annually, the council organises a variety of events that are aimed at moulding postgraduate students into individuals that are socially conscious in addition to achieving academic excellence. The events entail networking, career development and giving back to the community.
The Student Chapter planned to have a panel of three women engineers to address students and to celebrate 'Women's Month'. Additionally, they have planned to hold an event on the theme of sustainability. The idea is to have a variety of chemical engineers from different industries address members on sustainable design in industry, which should lead to some lively and rigorous debate.
In the last quarter of 2018, several industrial excursions are scheduled. The Student Chapter has arranged a farewell function in October, to wish students well for the final examinations. The Branch is also hoping to arrange an event to facilitate interaction amongst engineers in industry, academia and among the general membership, with the intention of making it an annual event.
If you would like to participate in any of the above-mentioned events, please contact the Western Cape Branch via saiche@mweb.co.za
Gauteng Members Group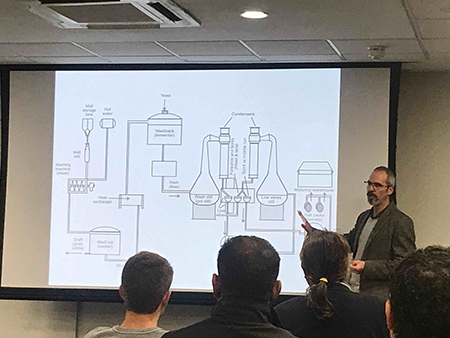 Carl Sandrock, chairman of the Gauteng Branch, provided a fascinating look into some of the history and technicalities of whisky distillation. The importance of the best ingredients, ie, water, barley and yeast, as well as the intricacies of the malting, mashing, fermentation, distillation and maturation processes, were discussed. The presentation included showing the designs of the copper stills at the various traditional distilleries. These not only allow some of the flavours unique to each distillery to be developed, but are also works of art in their own right.
The event was kindly supported by brand manager of The Glenlivet, Isaac Pooe, who informed the attendees on the tasting and appreciation of whisky and also surprised them with a donation for tasting purposes of The Glenlivet Founders Reserve, First Fill (white American Oak) from the new Nadurra range, as well as an exquisite 18-year-old example of such. Read more…