Ivanhoe's Platreef PGM project near Mokopane in Limpopo Province is one of only a small handful of 'greenfield' mining projects currently underway in South Africa. The project, which in its first phase will produce 476 000 ounces a year of platinum, palladium, rhodium and gold, recently reached a milestone – as we explain in an article in this issue – when its Shaft 1 intersected the high-grade 'Flatreef' deposit at a depth of approximately 780 m.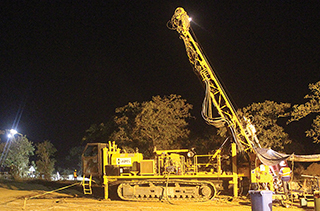 Also featured this month are stories on Cardinal Resources' Namdini gold project in Ghana, which is on course to be developed as a very substantial open-pit mine, and the iDredge™, an innovative dredge for alluvial diamond mining which was designed and built in South Africa and which has now been deployed on the Kasai River in the DRC.

Highlights in our news section include updates on Teranga's Wahgnion gold project in Burkina Faso, Orca's Block 14 gold project in Sudan and Rainbow's Gakara rare earths mine in Burundi. We also look at a major copper discovery, Makoko, in the DRC.
Comment: Sudan – the new gold frontier
Improbable as it sounds, Sudan appears to have emerged as the second biggest gold producer in Africa. It is currently reported to be producing over 100 tonnes of gold a year, the bulk of it from informal operations, as opposed to the roughly 80 tonnes a year that Ghana – the country normally rated second in Africa – typically produces. Click to read in the online magazine ...
Volvo's new 'heavyweights' expand Babcock's mining line-up
In our cover story, we look at some of the new machines from Volvo Construction Equipment (Volvo CE) which are specifically designed for the high end of the mining market. Volvo CE is represented in Southern Africa by Babcock, which has had particular success with one of the new introductions, the A60H articulated hauler, the biggest truck of its type in the world. It has also notched up a significant order for the brand new 100-ton Volvo R100E rigid hauler. Click to read in the online magazine ...
Innovative diamond dredge proves itself on first test run
A year ago Modern Mining reported on an innovative dredge – the iDredge™ – designed and built by South Africa's Imilingo Mineral Processing for use at an alluvial diamond mining operation in the DRC. In this article, we look at how the dredge has performed on its first test run on the Kasai River. Imilingo is now working on a larger version of the dredge – the iDredgeXRT™ – for a client in Angola. Click to read in the online magazine ...
Platreef's Shaft 1 reaches the 'Flatreef' deposit
Shaft 1 of Ivanhoe's Platreef project near Mokopane has reached the top of the high-grade 'Flatreef' deposit (T1 mineralised zone) at a depth of 780,2 m below surface. This is the first time that the Platreef – a strongly mineralised, polymetallic belt that extends northward from the town of Mokopane for more than 30 km – has been intercepted by underground mining activity. Click to read in the online magazine ...
Positive PFS a big step forward for Namdini
The recently released Preliminary Feasibility Study (PFS) on Cardinal Resources' Namdini gold project in north-eastern Ghana, makes it clear that the project has the potential to be developed into one of West Africa's most significant gold mines with an average yearly production of 294 000 ounces of gold over a 14-year mine life. Click to read in the online magazine...
Strong start at Kalagadi
Murray & Roberts Cementation reports that work is running ahead of programme on its contract at Kalagadi Manganese Mine in the Northern Cape. The company is tasked with building up production to the shaft system's nameplate capacity within the first 18 months of the five-year contract. Read more …
ASPASA broadens its base
An industry association that plays a big role in promoting safety and health in surface mining is ASPASA, which has traditionally represented the quarrying industry but which is now making a determined effort to represent all small surface mines. Read more …
Fogmaker put through its paces at Electra Mining
Fogmaker South Africa, which markets the Fogmaker fire suppression system locally, performed over 250 live demonstrations of the system at the recent Electra Mining Africa show in Johannesburg. Fogmaker – which can be installed on most types of mobile mining equipment – is a high-pressure water mist system. It was developed in Sweden in 1995 and has since found wide application around the world. Read more …
MSA celebrates mine safety with John T. Ryan awards
Mining houses AngloGold Ashanti and Lonmin Platinum were recently awarded the internationally-recognised John T. Ryan Safety Trophy, sponsored by MSA Africa, at MineSAFE 2018 at the Gallagher Convention Centre in Johannesburg. Read more …