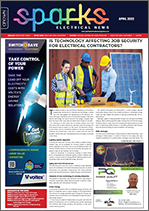 The electrical field is vast and diverse. Moreover, as the world is progressing, manual work is reduced, and technology is taking over with new gadgets and appliances; yet the electrical contractor still plays a significant role in the ultimate progress of the world towards technology and saving time with the energy of people.
However, the future holds many new and adventurous things for this field. It is necessary to think about this for several reasons. One must think about how to teach electricians, how their roles will change, and what they will have to adapt to in the future. The electrical contractor will evolve and be a wonderful addition to the new sustainability initiatives that should play a key role in society over the next few decades
Elsewhere in the issue we look at Cables and Cable Protection, Earthing, Lightning and Surge Protection, and Lighting.
Create the perfect combination with Crabtree's new Topaz Grid range
Ever since Crabtree South Africa launched the Topaz Range of switches and sockets, emphasis has always been on the aesthetic low profile and clean lines where its switches do not protrude above the cover plates. The company is proud to announce that it will be launching Topaz Grid in April which is designed and manufactured in South Africa.
Social media ideas for electricians
Social media has taken the world by storm. There are billions of social media users globally – more than half the world's population – a number which continues to rise. Social media is an authentic way to connect with your customers and is significantly cheaper than more traditional forms of marketing.
Cable accessories for the electrical field
HellermannTyton is synonymous with quality, and its range of accessories for the electrical industry, including a large range of cable accessories, is trusted by electrical contractors countrywide.
Megger opens office in Durban
Global electrical test equipment expert, Megger, has set up a new sales and support office in Durban, South Africa. This important and exciting development is the latest demonstration of Megger's commitment to serving the African market effectively and efficiently, and to providing readily accessible technical support for its fast-growing customer base in the region. The office will serve customers throughout the African continent
Buyers Guide
The April 2022 Buyers' Guide lists manufacturers and distributors of products and services in the Cables and Cable Accessories sector. Download the latest Buyers' Guide here.