Air Products supply of laser cutting gases to Loci Laser in Stellenbosch has developed into a flourishing partnership for both companies.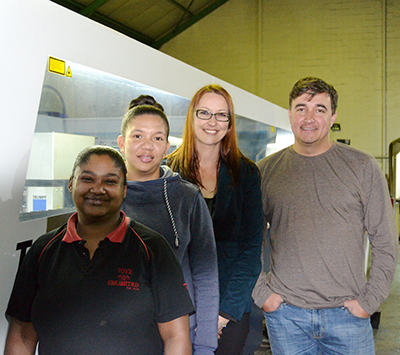 Air Products started supplying Loci Laser in Stellenbosch with gases such as nitrogen, oxygen and helium in liquid and gas form in 2003 for their laser cutting and bending operations in which they use mild steel, stainless steel and aluminium. Director Jaco Wiese explains that they foster a culture of being 'a family', rather than purely colleagues.
Wiese comments on the business and employees: "At Loci Laser, we pride ourselves in the quality of products we supply to our customers. We have longstanding customers with whom we have built solid relationships over the years. They know we go out of our way to supply products of the correct quantities and highest quality within the required timeframes of our customers. We use Air Products' gas as we are confident that we receive a similar service and products that compliments, and ultimately enhances the final product we produce," he says.
Loci Laser is the first laser cutting business in Cape Town to employ a female as a floor manager. Wiese notes that he has personally coached and mentored this employee and is extremely proud of her achievements and the asset she has become to his company.
Wiese concludes: "Loci Laser has always been open to incorporate new and advanced technology to improve our processes and systems, but we have never compromised our suppliers and only use those who provide us with an outstanding service and highest quality products. We are positive that we will grow Loci Laser even more with our trusted gas supplier Air Products alongside us."