With the brand new HS 8070.1, Liebherr is launching the newest generation of duty cycle crawler cranes. The machine has a lifting capacity of 70 tonnes and is the first choice for a multitude of applications: material handling, deep foundation work or lifting work.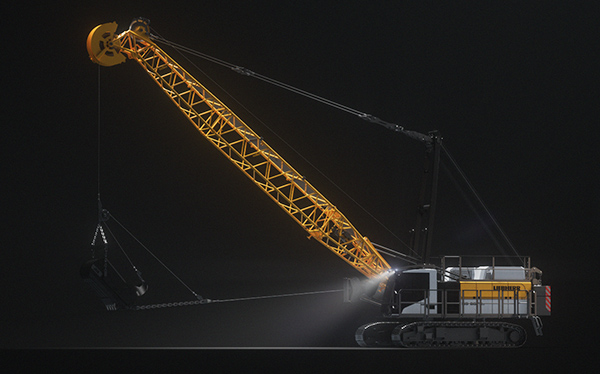 Using the new self-loading system (Jack-Up System) the crawlers can be easily disassembled for transportation, so reducing the transport weight to less than 35 t. The platforms and railings must no longer be removed before transporting.
Instead of a single counterweight, the machine now has a modular system. The duty cycle crawler crane can be individually equipped depending on the application. Further, the boom of the HS 8070.1 is compatible with the HS 8100.1. Therefore, customers can use attachments such as the slurry wall grab HSG 5-18 on both machines and install thicker slurry walls with a more compact machine.
As opposed to the fixed system, the new floating A-frame system ensures higher performance in dynamic applications. It also simplifies and speeds up the assembly and transportation of the machine. The user-friendly design extends to the tank neck, which is easily accessible via a platform on the uppercarriage – a perfect example of the modern design strategy.