At the bauma China 2020 exhibition, XCMG launched its super heavy-duty XC9350 wheel loader, the hallmark for Chinese heavy machinery, and solidified its leadership in the wheel loader market.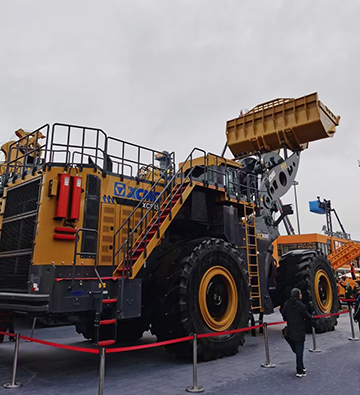 The XC9350 is powered by a 970 kW diesel engine and is equipped with an electrical driving system. It has an operating weight of 150 t, an 18 m3 bucket which can lift 40 t of material. It features an electrical driving system which can save 20% more on fuel compared to hydro-dynamic systems. The XC9350 is perfect for tough mining application such as open-pit mines, truck loading and short-distance logistics runs.
Features
Reliability: The structural parts are made of cold, high-strength steel and these machines have a high loading capacity for torque and impact under multiple working conditions. The hud reducer assembly consists of multiple-stage planetary wheels featuring high drive ratio and improved torque. The XC9350 also features a maintenance-free drive shaft with high anti-torque capability.
Efficiency: A perfect match of engine, generator and wheel-end reducer can maximise the efficiency while reducing fuel consumption. An efficient AC-DC-AC electrical drive system with high efficiency provides advanced control. The AC squirrel cage-type motor is reliable, with low maintenance cost and high output torque. Hybrid power and energy recovery, as well as recycling of energy generated by integrated electro-hydraulic braking, drives the wheel-end reducer and minimises abrasion caused by mechanical braking.
Convenience: Maintenance is easy and the XC9350 is equipped with automatic ladder, emergency exits, a centralised fast filling and sampling system, as well as central lubrication and pressure tests.
Intelligence: The XC9350 is not 'cold iron' but a smart tool, with XCMG's intelligent management system which enables the operator to monitor the operation and maintenance status of the equipment via mobile phone or pad device, or by means of data acquisition and analysis to realise accurate evaluation of the user's project.
XCMG began in 1985 to explore heavy-duty loaders and accumulating technical know-how over the ensuing 35 years has enabled the company to become the leader in Chinese heavy-duty loaders, with a full range from 1 to 35 t maximum lifting capacity. XCMG has been the No.1 exporter for wheel loaders over more than 20 years, and has established a reliable distribution network all over the world.