Magna Tyres Group has launched its latest addition to the material handling tyre line-up: the 18.00-25 Magna M-Stacker (IND-4), a more advanced tyre for use on reach stackers, empty container handlers and heavy-duty forklifts designed with a key focus on improving the efficiency and productivity of cargo operations.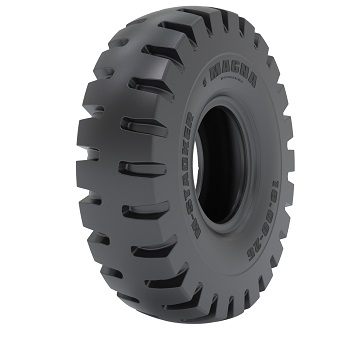 The Magna M-Stacker has been developed starting from the already proven MB01 tread design, with the specific operational requirements of customers. Through years of experience, comprehensive technical analysis by the R&D department and cooperation with leading ports and terminals worldwide, the company has managed to design a tyre that meets the ever-increasing demands of pick an stack equipment. The revolutionary tyre has been constructed according the following main focus areas:
Enhanced tread / design and groove area
A striking detail in the new design is the number of lugs in the tread area. It features additional three lugs and optimised rubber compound reduces heat build-up, allowing the tyre to run cooler and also resist heat-induced and abrasive tread wear.
Even tread wear
A noticeably wider tread design in combination with an effective adjustment in the shoulder height of the tyre and the optimal carcass design provide an ideal distribution of contact pressure resulting in a more even tread wear, increasing the tyre lifetime.
Longer lifetime and endurance
The optimised design of the tread and improved rubber compound provides longer tread life by preventing irregular wear caused by excessive lug movement and heat build-up.
Converted into practical terms, the new tyre meets the needs of port operators with an impressive improvement of up to 32% in operating hours. Translated to the total number of cycles, it is a huge increase in lifetime.
Reliable, easy drive and better stability
The robust strong sidewalls mean a reduction of deflection, improved protection against damage and a longer service life. In addition, the large-sized tread blocks provide the highest level of stability when loading and unloading heavy containers.
The new Magna port tyre is available in two versions: M-Stacker & M-Stacker+, where the difference is made by the tread depth, 55 versus 70 mm.
Availability
The 18.00-25 M-Stacker and 18.00-25 M-Stacker+ are now in production and with immediate effect.